Brazilian Judge reinstates top ally of President Temer to a ministerial post
Wednesday, February 15th 2017 - 09:34 UTC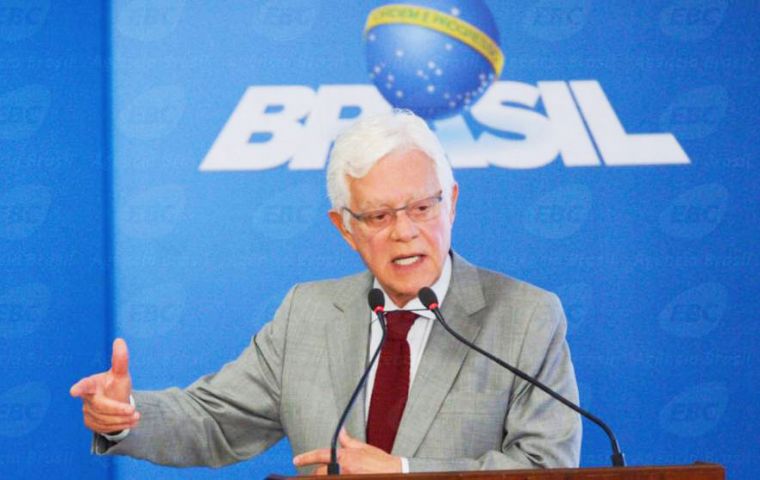 A Brazilian judge reinstated the nomination of a top ally of President Michel Temer to a ministerial post, but ruled he could not receive the legal protections other high-ranking politicians enjoy.
Rio de Janeiro Judge Alcides Ribeiro Filho's ruling that Wellington Moreira Franco could take a ministerial position in which he would oversee infrastructure and communications was the latest in a see-saw battle over the politician's promotion.
Opposition parties still have pending appeals opposing Moreira Franco's being named a minister before other judges, including a Supreme Court justice, and their rulings are expected to come early next week.
On Thursday, another federal judge had blocked the nomination, saying it could not be ignored that Moreira Franco had reportedly been named in plea bargain testimony that linked him to a massive political kickback scheme at state-run oil company Petrobras
Under Brazilian law, sitting federal congressmen, several members of the executive branch and other officials can only be investigated with the permission of the Supreme Court, and they can only be tried for a crime within the top court.
The nomination of Moreira Franco came just days after the Supreme Court officially approved plea bargain testimony from 77 executives and employees of Odebrecht, the construction conglomerate at the heart of the Petrobras corruption scandal.
It is expected that testimony will lead investigators to open inquires into more than 100 sitting politicians, greatly expanding what is already Brazil's largest-ever corruption probe.
Moreira Franco has been serving as Temer's current head of infrastructure investment.
That position did not give him extra legal protection, meaning that any investigation and trial of him would be handled by the same federal prosecutors and crusading judge who have pursued the Petrobras graft probe for nearly three years.