Comodoro/Falklands air link awarded by Argentina to Neuquen airline
Wednesday, February 15th 2017 - 09:44 UTC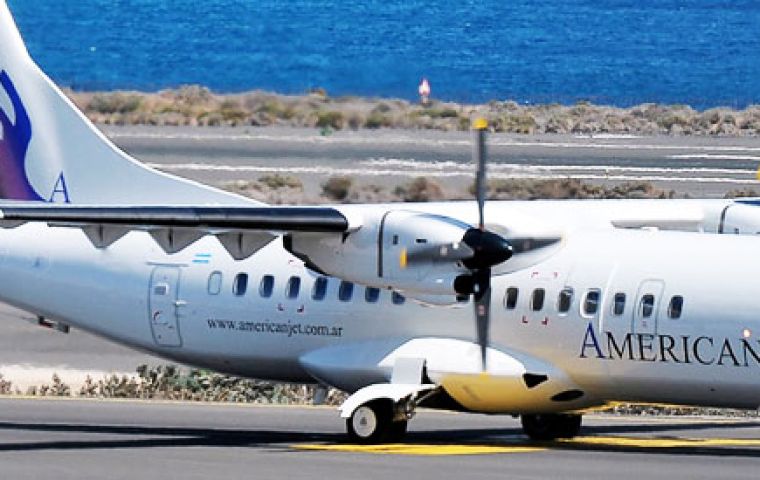 Argentina's Air Transport Advisory Agency has approved the flights' program of an airline from the Patagonia province of Neuquén which includes an air link between Comodoro Rivadavia and the Falkland/Malvinas Islands, reports this week the local Neuquen media.
The Advisory Agency which depends from the Argentine Ministry of Transport said American Jet has fulfilled "convenience, need and general purpose" conditions for the requested flights and thus "recommends a favorable reply to the requested concession to operate domestic and international flights".
Among the services recommended is the one from Neuquen City, Comodoro Rivadavia to the Malvinas Islands; other services include links between Patagonia locations with Chile and Bolivia, "in an ambitious plan to revitalize flights from the Juan Domingo Peron airport"
According to the American Jet S.A. official site the company was started in 1984 with air taxi services. As of 1996 it incorporated corporative and charter flights, mainly for the transport of staff from oil and mining companies operating in the region, plus regular and non regular links inside Patagonia.
The site also says that the company´s fleet includes Dassault Falcon 900; Bae Hawker 800 XP; Learjet 31/35/45/60; ATR 42; 320Fairchild Metro; 23Dornier 228 (STOL); Beechcraft B-200 and E/C 90, plus Bell and Eurocopter helicopters.