Over 1000 fans celebrated the magic of Harry Potter in Argentina
Thursday, February 16th 2017 - 13:20 UTC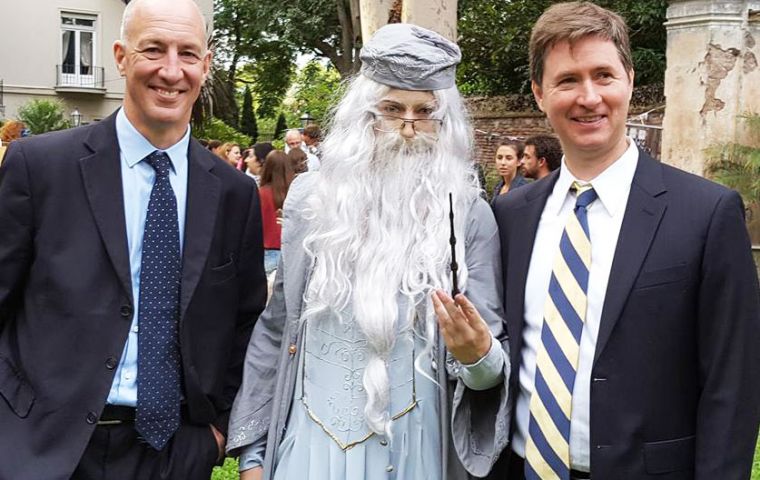 More than 1000 people took part last week of the local edition of "Harry Potter Book Night" – a global initiative by Bloomsbury Publishing designed to celebrate the magical world created by British author J. K. Rowling and promote reading. The event was organized for the second year running in Buenos Aires by the British Embassy and FanCon.

The Argentine fans of the young wizard took part in a wide range of activities, including readings, debates, games and contests held in the gardens of the Residence of the British Ambassador to Argentina, Mark Kent, who joined in the celebrations and enjoyed himself together with the fans.

During the first activity, volunteers dressed as Professors McGonagall, Snape, Sprout, Hagrid and Lupin performed the Sorting Ceremony, where several members of the public had the opportunity to try on the Sorting Hat and be selected for one of the four Hogwarts houses.

Dressed in costumes representing the different characters in the series, participants immersed themselves into the world of Harry Potter when they experienced some of the best parts of the story, like learning how to prepare mysterious potions with Professor Snape, taking flying lessons or discovering the secrets of Quidditch, the sport of wizards. They also walked among the display stands of publishers and distributors to purchase books in English and Spanish. Towards the end, there was a Cosplay contest, and the most creative costumes were awarded Harry Potter prize packs. Professor Horace Slughorn, Dumbledore, Rowena Ravenclaw and a lovable Dobby were the winners.