Stacy Bragger appointed Falklands' Media Trust Chair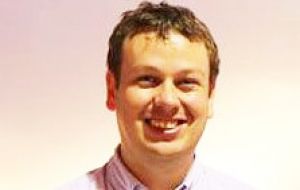 Stacy Bragger, Office Manager of the Falkland Islands Chamber of Commerce has been appointed Chair of the Media Trust. Stacy Bragger takes on the role from Janet Robertson who recently completed her four year tenure.
The purpose of the Media Trust is to oversee the running of Penguin News and Falklands Radio and to protect their editorial independence.
The Falklands Governor Colin Roberts CVO, thanked Janet for her excellent work as Chair where she oversaw a number of significant developments.
"We greatly appreciate her contributions while on the Media Trust. Penguin News and Falklands Radio play very important roles in Falklands life and the Trust is crucial to supporting both of them as they continue to develop," he said.
The Governor is currently seeking new Trustees and would welcome hearing from anyone who may be interested in joining.
Please contact Stacy Bragger if you would like to discuss this further. Letters of application should be sent to Jenny Cockwell at Government House on jenny.cockwell@fco.gov.uk.
Stacy previously worked for the Falkland Islands Radio Station. (Penguin News)