Falklands receives four member of the UK Parliament
Friday, February 17th 2017 - 10:33 UTC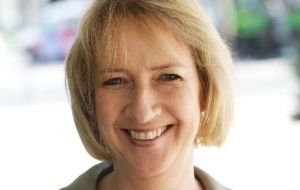 Four members of the UK Parliament are visiting the Islands Guests of the Falkland Islands Government; they are accompanied by Falkland Islands Government Representative in London Sukey Cameron MBE. Members of Parliament are regularly invited to the Falkland Islands by FIG.
This delegation comprises Alan Mak MP (Conservative), Amanda Milling MP (Conservative), Wes Streeting MP (Labour) and Karin Smyth MP (Labour).
As always they will have a busy schedule which will include visits to the school and hospital, a visit to Bleaker Island, a battlefield tour near Stanley and visits to the museum, the Minerals Department, Falklands Conservation and meetings with Members of the Legislative Assembly and the Governor.
They leave on February 21. (Penguin News)