Malcorra meets Tillerson to discuss bilateral agenda; Boris Johnson on Friday
Friday, February 17th 2017 - 09:48 UTC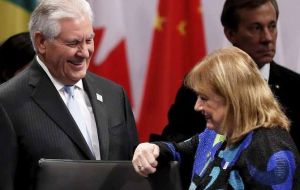 Argentine foreign minister Susana Malcorra met on Thursday in Bonn with US Secretary of State Rex Tillerson and one of the issues addressed was organizing the coming summit of presidents Mauricio Macri and Donald Trump, following the invitation extended to the Argentine leader by the US president on Wednesday's phone exchange.
On Friday Malcorra is scheduled to meet with Foreign Secretary Boris Johnson, who could be visiting Argentina sometime later this year to keep advancing in the new constructive attitude of bilateral relations.
"We have confirmed the interest to advance in our bilateral agenda and believe it is important to deepen those links and thus the significance that the two presidents meet the soonest possible" said Malcorra speaking to the German media in Bonn following the G20 foreign ministers summit.
"It is evident that there is a wide range reading in the world of what is happening in the US. Many of the measures announced have not yet materialized in definite policies and all this generates expectation. We have always stated that transitions have an impact and we would like that transition to be the briefest possible".
Malcorra added that the situation between Mexico and US opens opportunities, and it is a chance for the region, in a coordinated way, "to advance towards the rest of the world, including the US"
The Argentine minister also underlined the importance of reaching a Mercosur/European Union trade accord by the end of the year, "it is crucial to send to the rest of the world a strong message of the two blocks integration determination. We have a unique opportunity to seal a historic XXI century trade agreement that confirms our close relations and common values".
In her round of talks, Malcorra also met with German foreign minister Sigmar Gabriel, host of the G20 meeting. The summit is debating a UN Agenda 2030 to eradicate extreme poverty and inequality. Other issues include preventing conflicts, consolidating peace, particularly in warfare areas of Africa.
Argentina is scheduled to host the G20 leaders summit in 2018 and during that year will be holding the chair of the group. On Friday Malcorra will be attending the 53rd Security Conference in Munich.