Pope Francis defends indigenous peoples' rights to their ancestral lands
Saturday, February 25th 2017 - 11:30 UTC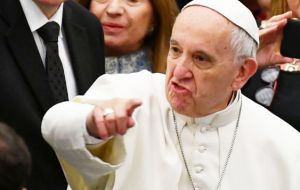 Pope Francis insisted that indigenous groups must give prior consent to any economic activity affecting their ancestral lands, a view that conflict with the Trump administration, which is pushing to build a US$3.8bn oil pipeline over opposition from American Indians.
Francis met with representatives of indigenous peoples attending a U.N. agricultural meeting and said the key issue facing them is how to reconcile the right to economic development with protecting their cultures and territories.
"In this regard, the right to prior and informed consent should always prevail," he said. "Only then is it possible to guarantee peaceful cooperation between governing authorities and indigenous peoples, overcoming confrontation and conflict."
The Cheyenne River and the Standing Rock Sioux tribes have sued to stop construction on the final stretch of the Dakota Access pipeline, which would bring oil from North Dakota's rich Bakken fields across four states to a shipping point in Illinois.
The tribes say the pipeline threatens their drinking water, cultural sites and ability to practice their religion, which depends on pure water. The last piece of the pipeline is to pass under a reservoir on the Missouri River, which marks the eastern border of both tribes' reservations.
The company building the pipeline, Texas-based Energy Transfer Partners, has insisted the water supply will be safe.
Francis didn't cite the Dakota pipeline dispute by name and the Vatican press office said he was not making a direct reference to it. But history's first Latin American pope has been a consistent backer of indigenous rights and has frequently spoken out about the plight of Indians in resisting economic development that threatens their lands.
"For governments, this means recognizing that indigenous communities are a part of the population to be appreciated and consulted, and whose full participation should be promoted at the local and national level," Francis told indigenous leaders.