Paraguayan guerrillas free abducted teenager after ransom is paid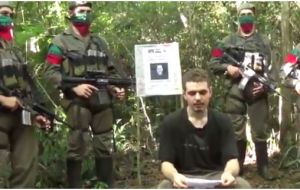 A Mennonite teenager, Franz Weiber who was abducted last July by Paraguayan Marxist inspired guerrillas in the north of the country was released on Saturday, safe and sound, after the family and friends collected the equivalent of US$ 25.000 in food to distribute among fourteen Indian communities in the area.
The self denominated Paraguayan Popular Army, EPP, still holds three other kidnap victims.
Primary information indicates that Franz who was kidnapped last July, was set free very close to the farm from where he was originally taken.
EPP also apologized because they were convinced that the Weibers was a rich cattle farming family, which was not the case, they are members of a Mennonite colony living in conditions similar to those of the XIX century.
Franz turned 18 during the 216 days he was in captivity. Paraguayan security forces have reported that the teenager apparently is in good health and has reunited with the family.
Before he was set free the EPP released a video showing Franz asking for the US$ 25.000 in food to be distributed among Indian communities. The video also poked fun of the Paraguayan forces and of president Horacio Cartes, whom they said is "Wanted" by the EPP and for whom there is a reward of 5.000 of the local currency, barely the equivalent of one US dollar.
The three people still in captivity and for which EPP is asking for a ransom include Edelio Morinigo, a policeman which has been held since July 2014; Abraham Fehr Banman member of a colony of farmers abducted in August 2015, and Felix Urbieta Ramirez, October 2016.
EPP has been operating in Paraguay's hinterland for several years, and apparently are mainly young university students, ex religious students and dropouts, from both genders. They are not many, but security forces have been unable so far to knock them out or give them a decisive blow.
Their main source of funds in kidnapping, particularly rich farmers which abound in the Chaco, while weapons are purchased from dishonest members of the forces both in Paraguay, Bolivia and Brazil.
At one point it was believed they were linked to the Colombian guerrilla movements such as Farc, for training and weapons, but no direct links have emerged.
The EPP challenge so far has been in the extended graze lands of north Paraguay and have not reached urban areas or have no connections with city organizations.
However the fact that one of those still in captivity is a policeman and in a recent ambush EPP killed eight soldiers riding a truck in a rural area could begin to turn the ride.
The Paraguayan government policy has also been to play down events related to EPP, with not much press, so as not to scare investors but neighbors Brazil and Argentina are not so convinced.