Fed says rate hike in March would be "appropriate" if US economy evolves as expected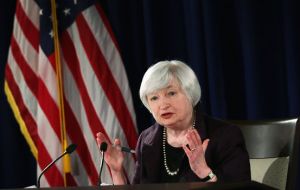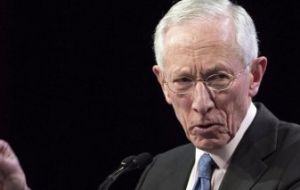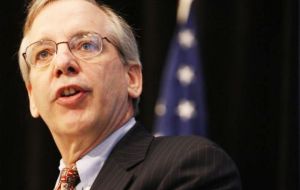 Federal Reserve chair Janet L. Yellen said a March rate hike would be "appropriate" if the economy continues to evolve as expected, signaling that the central bank will likely raise its benchmark interest rate sooner than many economists and investors had expected just a few weeks ago.
Until as recently as last week, Wall Street saw a rate hike as likelier in June. But in remarks made to the Executives Club of Chicago last Friday, Yellen cited a strong job market and rising inflation.
Although some analysts have speculated that the accelerated timetable for the rate increases could lead to more of them overall, Yellen appeared to affirm the Fed's position of three quarter-point rate hikes this year.
"At our meeting later this month, the Committee will evaluate whether employment and inflation are continuing to evolve in line with our expectations, in which case a further adjustment of the federal funds rate would likely be appropriate," Yellen's prepared remarks read.
"With the job market strengthening and inflation rising toward our target, the median assessment of FOMC participants as of last December was that a cumulative 3/4 percentage point increase in the target range for the federal funds rate would likely be appropriate over the course of this year," Yellen said, adding that the Fed is projecting "additional gradual rate hikes in 2018 and 2019."
Elsewhere in the speech, she indicated that the economy was meeting the Fed's expectations. "The economy has essentially met the employment portion of our mandate and inflation is moving closer to our 2 percent objective," she said.
Yellen's remarks follow a blitz of statements from other high-profile members of the Federal Reserve this week who suggested a rate increase could happen at the Fed's meeting in mid-March, earlier than what many investors had expected.
"I think the case for a rate increase in March has come together, and I think it's on the table for discussion," Federal Reserve Board governor Jerome Powell said in an interview on CNBC Thursday.
New York Fed President William Dudley remarked that the case for a rate hike had "become a lot more compelling," while San Francisco Federal Reserve Bank President John Williams said he didn't "see any need to delay." Fed governor Lael Brainard said that a rate increase would be "appropriate soon" if the economy continues to progress. Brainard and Dudley are thought to be among the Fed's more dovish members.
In comments given at a conference in New York on Friday, Federal Reserve Vice Chair Stanley Fischer said he "strongly" supports the advice given by other FOMC members on the timing of interest rates.