Brazil denies plans to raise taxes on forex transactions to help meet fiscal target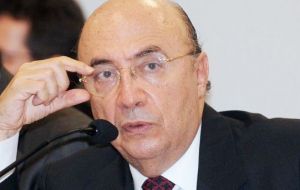 Brazil's central bank and finance minister denied a report that the government could raise taxes on foreign exchange transactions to help reach this year's fiscal target. Bloomberg News had reported the move was "among the options being considered" by the Brazilian government to meet its fiscal target, citing a source with direct knowledge of the issue.
Asked about the report, Finance Minister Henrique Meirelles said the government was not considering changes to the so-called IOF tax on foreign currency transactions. A spokesman for the central bank also denied the report.
Brazil's currency weakened as much as 1.9% to a session low of 3.1806 per U.S. dollar after the report. Strong U.S. jobs data on Wednesday strengthened bets on a Federal Reserve interest rate increase next week, threatening to lure capital away from higher yielding Latin American assets.
Meirelles said on Tuesday that Brazil could raise taxes or further cut spending if necessary. He said there was no chance of revising the 143.1 billion reais (US$45.3 billion) primary deficit goal, which excludes interest payments.
Brazil last raised the IOF financial tax on the purchase of foreign currencies in cash in May to 1.1%.