Argentina authorizes a low cost airline to fly Falklands/Comodoro Rivadavia
Saturday, March 18th 2017 - 10:26 UTC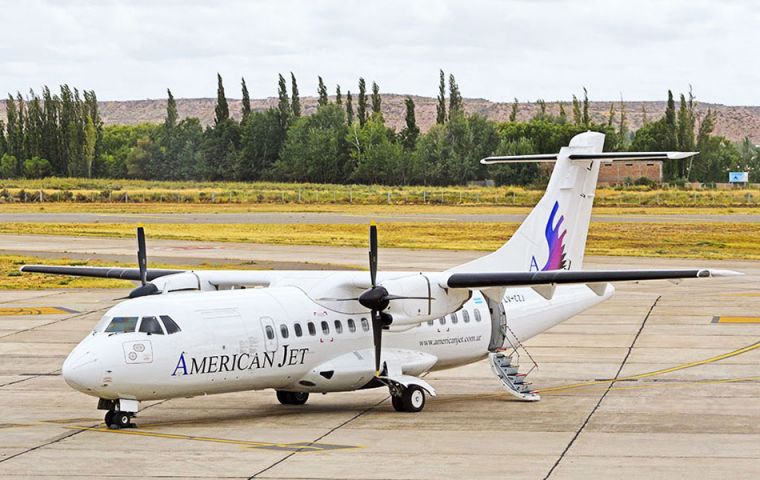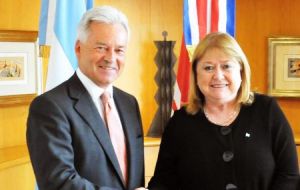 The Argentine Ministry of Transport awarded American Jet authorization for an air link between Comodoro Rivadavia, in Patagonia and the Falkland Islands, according to Resolution 136-E/2017 published in the Official Gazette and signed by minister Guillermo Dietrich.
The Friday resolution points out that the low cost airline American Jet was awarded "the concession to exploit regular domestic and international air transport services of passengers, cargo and mail" in the route Neuquén, Comodoro Rivadavia, Malvinas Islands.
The company's fifteen year concession must begin operations "in the next 180 days" following attainment of the Air Service Provider Certificate.
It must be remembered that last 13 September, Argentine foreign minister Susana Malcorra and Foreign Office minister Alan Duncan signed a joint statement which among its many issues referred to additional Falklands air links with the South American continent.
The Friday resolution also includes another two airlines, Alas del Sur and Andes Líneas Aéreas, which were awarded authorization to exploit domestic and international air services involving passengers, cargo and mail to several countries of the region, Chile, Bolivia, Paraguay, Uruguay and Brazil.
Alas del Sur operating from Cordoba is allowed to organize flights to Bolivia, Brazil, Paraguay, Chile, Uruguay, Miami, Shanghai and Rome, and an air bridge between Buenos Aires City main international airports, Aeroparque and Ezeiza.
Andes Lineas Aereas is entitled to provide, from any of the two Buenos Aires international airports, domestic flights and links with Chile, Peru and Brazil.
Two other low cost airlines are pending authorization, Avianca and Flybondi, allegedly because of conflict of interests, involving government officials.