UK hosts this week Argentine biggest business delegation in 20 years
Saturday, March 18th 2017 - 10:09 UTC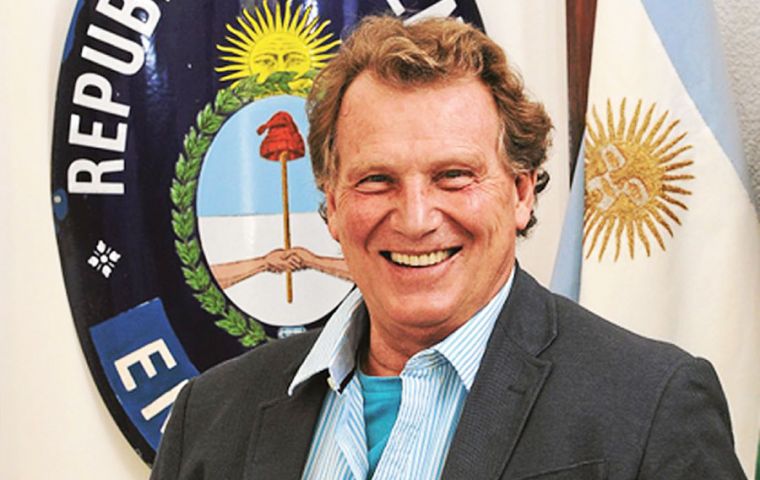 Finance minister Nicolas Dujovne will be heading this week the largest Argentine business delegation to visit the UK in twenty years, jointly organized by the Argentine-British Chamber of Commerce with support from the Argentine foreign ministry and the embassy in London.
"It is the largest business delegation given the number of companies, economic sectors represented, authorities and institutions' delegates to be involved in the many activities scheduled in the UK", said Argentine ambassador in London, Carlos Sersale di Cerisano. The purpose of the mission which will spend five active days in UK, Monday to Friday, is to promote Argentine exports and attract UK investors to the country.
"UK was the main investor in Argentina until the beginning of last century, and in that context we believe it can currently offer much in expertise and investment in those sectors which will be addressed during the visit such as food, drinks, agri-business, infrastructure, IT, telecommunications and energy", said the Argentine ambassador.
He added Argentina is opening to the world and offers a wide range of attractive assets for institutional investors which until now remain under-exploited and lack genuine investors in areas such as mining, renewable energy, among others.
Sersale di Cerisano said that currently bilateral trade stands at US$ 1.3 billion, but he is confident that this can be significantly increased because UK is a net importer of commodities and also an important market for food and drinks, areas in which Argentina has comparative advantages, easily propelled by the fact that UK is leaving the European Union, "a very interesting trade opportunity if Argentina takes advantage".
The Argentine diplomat recalled that London is the world's main financial center and seat of leading investment funds, behind New York, and an ideal source of financing for investments. The UK economy is mainly based on services and has become a world top level provider of services with added value, in areas such as finance, consulting, advising and management of major projects.
Monday in London begins with a Mining seminar for the delegation, "a sector with great potential, which is waiting to be developed, since you just have to look across and see how successful Chile has been and we share the same range of mountains". A visit to the London International Council of Minerals and Metals is also in the agenda, to help promote sustainable and safe mining.
"What we need is to capture that expertise and financing and ensure they reach Argentina, creating jobs and technology transfer, so that we can make better use of our manpower and resources", underlined Sersale di Cerisano.
Another 18 Argentine companies will be attending the "International Food & Drink Event", IFE, while others will be involved in a multi-sector seminar, another on doing business in the UK market and more specifically at the "Mining Plan 2017: a new era in Argentine mining".
IFE attracts some 1.300 exhibitors from sixty different countries and Argentine will have a stand to promote its produce.
The Argentine embassy which has been actively involved in preparing the agendas, links, meetings with UK companies and government counterparts, will provide logistics support and releases on the activities, according to the ambassador.
The business delegation also includes the governor of the Santa Fe province, Miguel Lifschitz, Mining Secretary Daniel Melián and the president of the Argentine Rural Society, Luis Miguel Etchevehere.