Macri administration reiterates defense of Malvinas sovereignty before Congress
Thursday, March 23rd 2017 - 13:32 UTC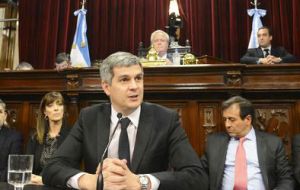 Argentina's chief of staff Marcos Peña defended the current administration's policy towards the Falklands/Malvinas question arguing that dialogue is the path, not speeches with no content or results, and pledged "we will stand by Argentine sovereignty of the Malvinas Islands".
Peña attended the Lower House of Congress on Wednesday for his annual report on government activities and was involved in a fierce exchange with Kirchnerite lawmakers who questioned president Mauricio Macri policies regarding the economy, labor relations and foreign affairs particularly the approach to the disputed Falklands.
"We defend Argentine sovereignty of the Malvinas, and this is not defended with speeches but with dialogue no matter what ghosts of the past you want to resurrect", Peña replied to lawmaker Axel Kicillof who described the Macri approach as useless and unpatriotic.
"We're not going to hand over any sovereignty, we are going to defend Argentine rights over the Malvinas, no matter the ghosts and lies you appeal to", underlined Peña.
The Macri official insisted, "when are you going to accept responsibility for what you did? It's time you take the blame for the disasters we found when taking office, the economy was stagnant for five years, and you left the country in default".
"Don't tell us the economy was working and advancing under your government. Argentines, yourself, know jolly well that is pure nonsense!".
Finally Peña argued that there is no such thing as "an indiscriminate opening to imports, what we really have is a very fragile economy, unable to compete, because of your policies".