Workers at the world's largest copper mine in Chile end 43/day strike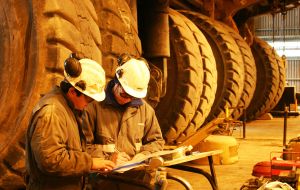 Workers at the world's largest copper mine, BHP Billiton's Escondida in Chile, ended a lengthy strike Thursday that had caused turbulence on global copper markets. But the company warned they had only made matters worse by pushing negotiations back another year and a half.
With no breakthrough in sight in the testy negotiations, the miners' union decided to invoke an article of Chilean labor law that allows them to keep their old contract for another 18 months, union lawyer Marco Lopez said.
Management at Escondida said triggering that law, known as Article 369, was a mistake. "We know it's not good for anybody, and would be a complicated situation," the mine's president, Marcelo Castillo, said just before workers made the announcement.
Management had earlier announced the formal end of negotiations, giving the workers an ultimatum to take or leave its final offer.
Like other mining companies, BHP, which owns a 57.5% stake in the mine, is scrambling to cut costs amid a slide in copper prices in recent years. It had rejected workers' demands for a 7% raise and bonuses of 25 million pesos (around US$38,000). Instead, the Anglo-Australian mining giant was offering bonuses of 11.5 million pesos, with no raise.
The end of the 43-day strike came on the day it broke the record for the longest mining strike in copper-rich Chile's history. The workers will return to work Saturday, Lopez said.
The miners' union declared it "Mining Dignity Day" and announced it would hold festivities at the camp where the 2,500 striking miners had been picketing. "We have protected the future of new generations of workers at this company," it said in a statement.
The sprawling mine complex in the Atacama desert normally supplies some 5% of global copper output. The company said the strike had dented production by between 3.6 million and four million tons. The union estimated the cost to the mine was more than US$1 billion.