Icebreaker Almirante Irizar ready to begin sea trials after a decade in repairs
Saturday, March 25th 2017 - 09:21 UTC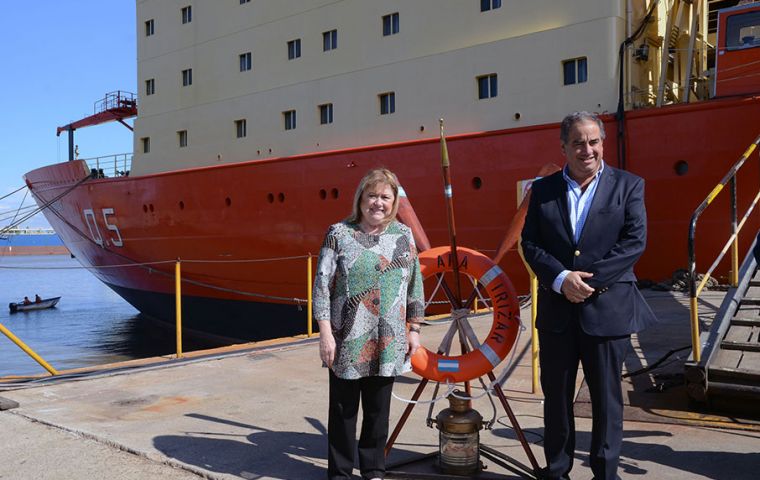 Argentine foreign and defense ministers Susana Malcorra and Julio Martínez toured on Friday the recently repaired and refurbished Navy's icebreaker and Antarctica flagship, Almirante Irizar which a decade ago almost became a wreck after she caught fire on return from the annual Antarctic mission.
"This is a clear example of the joint effort between the ministries of Defense, Foreign Affairs and the Armed forces, working is something so significant for Argentina as Antarctic research and sovereignty in the South Atlantic", said Ms Malcorra.
Minister Martinez pointed out that the Almirante Irizar is "a strategic piece of Antarctica operations so that is why we are working so as soon as possible, the icebreaker can return to the South Atlantic and in support of the Antarctic campaigns".
The two ministers, together with Navy officers and Tandanor shipyard authorities toured the vessel, the different areas recovered and discussed refurbish works as well as coordination of Antarctica activities.
"Irizar is really impressive, it's so good to be able to visit her. Tandanor has done a great job and have completely recovered the vessel which was greatly destroyed by fire" said Malcorra recalling the incident in 2007 which consumed most of the inside of the vessel and even affected her hull.
The foreign minister said that the new design has incorporated 400 square meters of labs, which should boost the country's scientific research both on board and in coordination with Antarctic bases and stations from other countries in Antarctica. The number of cabins and facilities have also been increased "to lodge more scientists helping to keep alive Argentina's ongoing commitment to Antarctica research".
Icebreaker Almirante Irizar, built in Finland, is since 1979 Argentina's flagship of the Antarctic Program and had proved most effective until the big fire in 2007. Recovery and repairs dragged for years marred by bureaucracy, over costs, successive claims of corruption, sporadic lack of funds and all along the big question: if the money and time invested in recovering the vessel, (several hundred million dollars) plus the cost of renting auxiliary vessels to keep the Antarctic program afloat was worth it. Most probably at the end of the day it would have been cheaper to have ordered a new icebreaker.
Docked for a decade while the repair ordeal dragged along, once she was prepared to start sea trials, an additional challenge emerged, she was two meters deep in mud and the canal leading to the shipyard had to be dredged, but who was responsible for the task, Public Works or Defense? Another delay.
However with the ministerial visit accompanied by other government officials and naval officers it can be said that it was the launching blessing for the refurbished Almirante Irizar to begin sea trials and in a few months should be ready for the 2017/18 Antarctic campaign.