Falklands announces changes to UK currency; new £ 1 coin at the end of March
Monday, March 27th 2017 - 08:32 UTC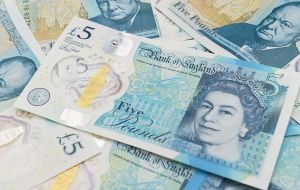 The Bank of England has recently introduced a new, more secure UK £5 banknote, and plans to introduce a new UK £1 coin that will replace the existing the existing coins.
The phasing out of the old UK £5 note and £1 coin will take effect in the Falklands as well.
The new UK £1 coin will be introduced in the UK on 28 March, 2017. The old UK £1 coin will no longer be legal tender and will not be accepted by banks from 15 October, 2017.
The new UK £5 is already in circulation. The old UK £5 note will be withdrawn from circulation in the UK on the 5th May, 2017, and Standard Chartered are in contact with the Bank of England to clarify the final date for accepting the old currency.
Standard Chartered Stanley is separating the old £5 notes and UK £1 coins as they come in to the bank, so that they do not go back into circulation. The bank encourages customers to bring in their old UK currency, knowing the bank will replace it with new UK currency (when available) and existing Falkland Islands £1 coins.
There are no current plans for the Falkland Islands to update our own £1 coin or paper currency.
The bank encourages people to use £2 coins, due to a current shortage of £1 coin.