Falklands' large farms report better 2016/17 clip and lambing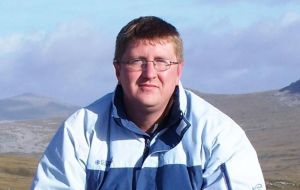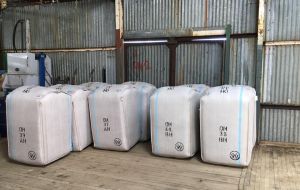 Falklands Landholdings, FLH, has managed an excellent 2016/17 wool clip in a year with bullish prices, reports the Penguin News latest edition. A total of 138,302 sheep have been shorn producing 342,980 kilos of clean wool and all packed into 2,653 bales over the last five months.
If you could lay all the FLH wool bales from the 2016/17 shearing end to end, it would measure 2.92 km, was how the combined clip from Goose Green, North Arm and Fitzroy was summed up this week.
FLH general manager Andy Pollard said it was an excellent wool clip and was an increase of nearly 11,000 kg or 130 bales from an extra 3,000 sheep shorn.
With the world wool price below 26 micron, higher than last year, the overall wool income was above budget, said Mr. Pollard, adding that the fleece wool had excellent color and low vegetable matter content as normal, and the micron was reduced by 0.3 to an overall flock fiber diameter of 24.8.
Lambing had also been excellent with North Arm and Goose Green achieving the highest percentages in 25 years (74 and 73% respectively) while Fitzroy marked 6,670 lambs (68%) all above the Islands average of 65%.
The number of ewes joined was approximately 2,000 higher than the previous year.
Supply to FIMCO was in 'full swing' and the condition of the livestock had also been good, said Mr. Pollard.
"Whilst the swede crops have struggled, the forage oats, Italian ryegrass and permanent pastures have been excellent. "Growing field crops requires just as much as expertise, if not more than what is required in home gardens. Ian Beattie and Lewis Morrison, the farm managers, and the DoA assistance chiefly through Adam Dawes, has without doubt led to these results. Thanks to all those that helped us along the way so far this season," said Mr Pollard.(PN).