Labor and social conflicts eroding the image of Argentine president Macri
Monday, March 27th 2017 - 08:36 UTC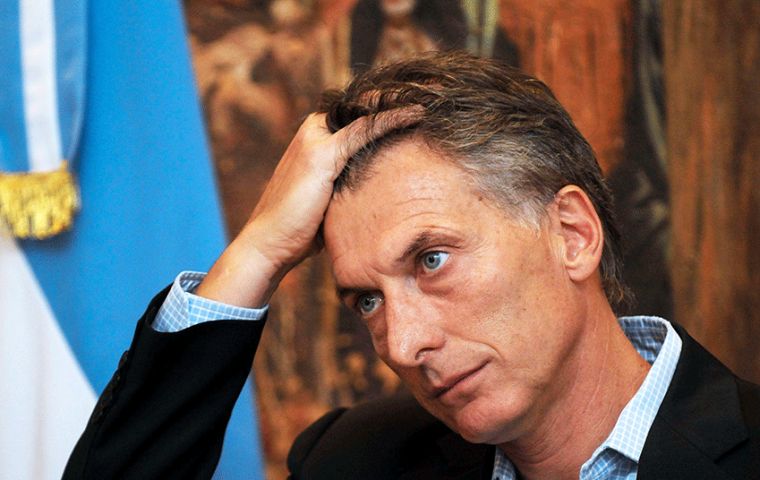 Argentine president Mauricio Macri is facing a challenging scenario in a crucial year of midterm elections.
The conflict with teachers which has impeded a normal beginning of the school year, pickets in the streets demanding the implementation of an Emergency Bill and the general strike calling for a change of economic policy scheduled for next 6 April are tarnishing the image of the reformist president.
According to a Management & Fitch public opinion poll, 44.2% of interviews replied they disapprove of the way Macri is running government, while 40.2% continue to support him. This means that in the last two months, approval has dropped four percentage points.
Likewise 48.3% believe the economic situation of Argentina will "worsen" in the coming months and only 27% said it will improve. As to the personal situation of those interviewed, 43.7% said it will worsen and 20.9% feel it will be better.
As to the main challenges facing Argentina, corruption stands in first place with 17.9%, followed by insecurity with 16.5%, unemployment 15.5%, inflation, 15.4%, poverty 14% and the increase of public utility rates, 10.7%. However the drugs scourge reflects 3.9% and the loss of school days, 3.6%.
Specifically on the schools' conflict, 51.4% support teachers' salary demands, and 43.1% reject them. However 44% believe it is a political conflict and 44.5% that it is a genuine labor conflict. Likewise the feeling is that the unions are making a greater effort to overcome the situation, 35.8%, while 31.3% believe it is the government that is trying to find a way out.
The other big issue making headlines in Argentina, the conflict with the labor unions, and the 6 April general strike, is followed closely by public opinion but 50.8% believe it is clearly a dispute over political standing.
Argentina midterm elections, when half the Lower House and a third of the Senate seats will be renewed, are scheduled for next October.