UK confident of closer relations with Argentina and Mercosur, in the Brexit process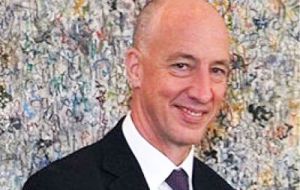 Ambassador in Argentina Mark Kent said that the UK process of leaving the EU will be slow and in the meantime as it opens to new alliances, new markets, Britain will be looking for closer relations with Argentina, and Mercosur, not geared by protectionism but rather the opposite, an inclusive globalization.
In a brief open video message released on Thursday, ambassador Kent recalled that on 29 March the UK delivered the formal letter notifying the European Council of its intention of withdrawing from the European Union, but "this does not mean abandoning Europe, rather the contrary, we are looking for a special relation, a deeper relation with EU countries, and of course a free trade agreement".
However this process will take time and "I would like to reiterate that the UK exit is not an act of protectionism, we are not closing doors to the world, exactly the opposite, we will be looking for new alliances, new markets, new partners, and in this I am sure we will have a closer relation with Argentina, in trade and investment, but also internationally, in the UN, the G20, the World Trade Organization, where we will be looking for an inclusive globalization".
Ambassador Kent also pointed out UK's intention of looking for greater possibilities of trade relations with Mercosur, and in this the embassy in Buenos Aires will be working hard to take advantage of this raft of opportunities for both countries, and "I believe that in this in endeavor we can count with the support of many Argentines, for which I am grateful beforehand".