Chavism divided: Chief prosecutor says there has been a "rupture of constitutional order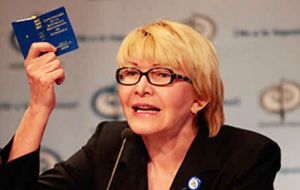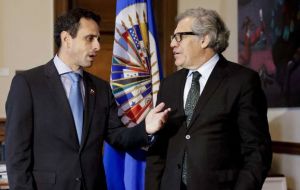 Venezuela's chief prosecutor broke with the government on Friday and rebuked a Supreme Court decision stripping Congress of its last vestiges of power, showing a crack in the unity of the embattled populist government of President Nicolas Maduro as it came under a torrent of international condemnation over what many decried as a major step toward dictatorship.
In a shocking pronouncement, long-time government loyalist Luisa Ortega Diaz said it was her "unavoidable historical duty'' as the nation's top judicial authority to denounce what she called a "rupture'' of the constitutional order.
"We call for reflection, so that the democratic path can be retaken,'' she said to the loud applause of aides gathered around her.
The statement gave a major boost to the opposition, some of whom spent the day sparring with riot police and gearing up for what they hope will be nationwide protests Saturday.
The Supreme Court ruled late Wednesday that as long as lawmakers remained in contempt of court rulings that nullified all legislation passed by the chamber, the high court can assume the constitutionally assigned powers of the National Assembly, which has been controlled by the opposition for nearly a year and a half.
The United States and governments across Latin America condemned the power grab, which the head of the Organization of American States likened to a "self-inflicted coup'' byMaduro. The United Nations' top human rights official also expressed "grave concern'' and called on the high court to reverse its decision.
Opposition leaders, long-marginalized during the past 17 years of populist rule, called on other public officials to follow Ortega Diaz's example. They also urged the military, the traditional arbiter of political disputes in Venezuela, to break its silence and defend the constitution drafted by late President Hugo Chavez to which it swore allegiance.
"You have a new opportunity to show the country and international community if you are with the dictatorship or want your children and grandchildren to grow and live in a country where there's democracy and liberty,'' said David Smolansky, a Caracas area mayor.
Amid so much intrigue, the normally ever-present Maduro was conspicuously silent and by late Friday had not commented on the ruling, nor had leaders of his ruling United Socialist Party of Venezuela. His foreign minister was forced to abruptly cancel a meeting with diplomats in the capital to explain the ruling after Colombia, Chile and Peru withdrew their ambassadors. The Mercosur trade bloc, which suspended Venezuela in December, called an emergency meeting Saturday in Argentina to discuss the crisis. Unasur criticized the closing down of the elected National Assembly.
A day after the international overwhelming criticism of the Supreme Court's move and a call on Maduro to free political prisoners, OAS was pointed out as the best place to address concerns about Venezuela.
OAS Secretary General Luis Almagro called an emergency meeting to discuss the crisis after two previous sessions this week ended with 20 governments led by the U.S. and Mexico voicing deep concern but no concrete actions to hold Maduro accountable.
"This is a decisive hour for the region,'' said opposition leader Henrique Capriles, who met Friday with Almagro in Washington. We'll find out "who is with the people and democracy and who is with corruption and dictatorship.''
In Caracas, national guardsmen in riot gear fired buckshot and swung batons at a group of students who gathered outside the Supreme Court. Several protesters were arrested and some journalists had their cameras seized. One journalist, from Colombia's Caracol Radio, was surrounded by a dozen military members who swung her around by her arms and legs, and hit and dragged her.
Regional governments seem far more engaged in seeking a solution to the political and increasingly humanitarian crisis that threatens to spill beyond the country's borders.
National Assembly President Julio Borges said Friday that while on previous occasions lawmakers in Venezuela have "tired their fingers'' making phone calls to raise international awareness of what was occurring in Venezuela, the last two days have been the "complete opposite.''
The world's leaders have been calling "not to ask what is happening, but to express solidarity,'' he said.
The Supreme Court's ruling and another earlier this week limiting lawmakers' immunity from prosecution capped a feud that began when the opposition won control of the legislature by a landslide in December 2015 and then mounted a campaign to force Maduro from office.
The populist leader, who has seen his approval ratings plunge amid widespread food shortages and triple-digit inflation, responded by relying on the Supreme Court to unseat several opposition lawmakers and then issue an order nullifying all legislation passed by the National Assembly.