Morales vocal cords surgery in Cuba, a success says Bolivian government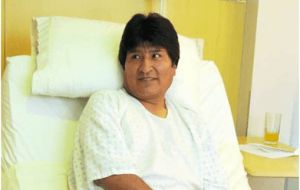 Doctors in Cuba removed a benign node from the vocal cords of Bolivia's President Evo Morales, the Bolivian government said.
Morales will remain in Cuba for at least four more days and will need about six days without speaking to fully recover, Rene Martinez, Minister of the Presidency, said on Telesur, in a television broadcast from Havana.
Morales, 57, took office in the Andean country in 2006 and was elected to a third term as president in 2014.
He said last year he may run for a fourth consecutive term in 2019 elections despite losing a referendum that would have reformed the country's constitution to allow him to run again.