Brazil industrial output still virtually flat; central bank says inflation expectations are "well anchored"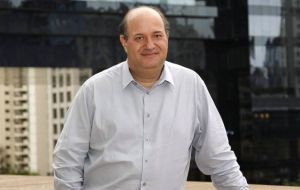 Industrial output in Brazil barely grew in February, government data showed on Tuesday, throwing cold water on hopes of a quicker recovery from a two-year recession. Industrial production rose 0.1% in February from January, government statistics agency IBGE said, short of expectations for a larger increase.
Production fell 0.8% from a year earlier, compared to expectations of a 1.4% rise. The disappointing performance of Brazilian manufacturers and miners in February added to a recent batch of frustrating data from retailers and service providers that had been expected to show Brazil's economy finally emerging from its worst-ever recession.
Economists with MCM Consultores in a report said they were preparing to cut their estimate for Brazil's growth in the first quarter from the current 0.5% following the industrial output data.
A 6.5% increase in capital goods production was the silver lining in the data, though, in a sign of rising investment.
"Brazil's industry is showing that the worst is over, but we can't really say that the sector is already recovering. It is stabilizing," IBGE economist André Macedo said.
The IBGE report contrasts with a purchasing managers' survey showing the industrial sector picking up speed. The Purchasing Managers' Index compiled by research firm Markit showed in March the first increase in production and new orders in 26 months.
However the non encouraging report was somehow compensated by Central bank chief Ilan Goldfajn, during a Senate hearing on Tuesday.

"A more flexible monetary policy will contribute to faster economic growth in 2018 in Brazil, but economic reforms are needed to reduce interest rates in a structural way for the long term", central bank chief Goldfajn said.
The banker added that inflation expectations are well anchored and that Brazil is now less vulnerable to potential shocks from abroad. This was also interpreted as meaning that the monetary authorities will continue with their policy of cutting interest rates.