UK candidate for WHO Director General, David Nabarro, visits Uruguay
Wednesday, April 5th 2017 - 05:30 UTC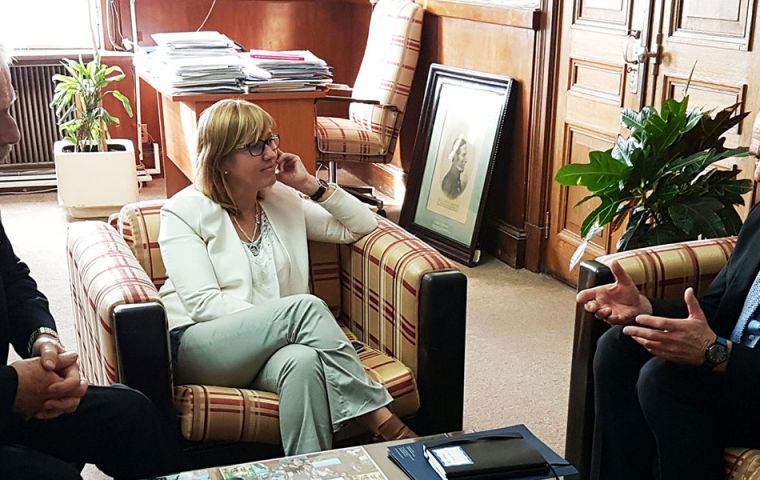 Dr David Nabarro, one of the three candidates for Director General of the World Health Organization (WHO), visited Uruguay 23-24 March. During his stay he met with Health Minister Jorge Basso and Vice Minister Cristina Lustemberg, and with Foreign Minister Rodolfo Nin Novoa, to explain his objectives and his vision for a better WHO, and to hear about Uruguay's health situation, objectives and challenges.
Dr. Nabarro also had the chance to visit Mega Pharma, a pharmaceutical company that operates locally at "Parque de las Ciencias".
The WHO Director General candidate highlighted Uruguay's health care system accessibility, its good figures on life expectancy and President Tabaré Vazquez's achievements in reducing the number of Uruguayan smokers through a no-smoking campaign.
Dr Nabarro's experience is unrivalled – he has spent over 40 years in international public health as a medical doctor, educator, international public servant and diplomat. He has repeatedly and successfully managed complex global challenges and led the world in responding to crises. He has worked on the frontline, in over 50 countries including Brazil, Nepal and Bangladesh.
At the end of May health ministers of 194 nations will elect the next WHO Director General at their annual assembly in Geneva, Switzerland. The successful candidate will replace Dr. Margaret Chan. She was first elected to the post of Director-General on 9 November 2006. The Assembly appointed Dr Chan for a second five-year term at its sixty-fifth session in May 2012. Dr Chan's new term will begin on 1 July 2012 and continue until 30 June 2017.
Dr. Nabarro is adviser to the United Nations (UN) Secretary General on the 2030 Agenda for Sustainable Development and Climate Change. He is also leading the UN's response to the cholera epidemic in Haiti and previously served as the Special Envoy on Ebola.[1]
In September 2016, Dr Nabarro was nominated by the UK to stand for the post of Director-General (DG) of the World Health Organization, WHO.[2]
More info: https://youtu.be/4O_Kd-Vo878