General strike in Argentina; Macri hosts the World Economic Forum
Thursday, April 6th 2017 - 08:05 UTC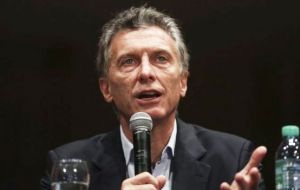 Workers are committed to a general strike in recession-hit Argentina on Thursday, drawing complaints from conservative President Mauricio Macri as he prepares to host leaders and business people for an economic forum.
The strike raises pressure on Macri as he struggles to help Argentina recover from recession ahead of mid-term legislative elections in October.
Macri took office in December 2015 vowing to rescue the flagging economy, open up trade and draw investment after 12 years of populist government. However the economy remains bogged down, having shrunk 2.3% last year, though it ticked upwards in January.
However official figures show that a third of Argentine living in poverty, according to official figures. Inflation is in double figures while jobs and salaries have been cut in Macri's efforts to stabilize public finances.
But these reforms have sparked mass street protests over recent months, culminating in Thursday's planned strike. Three major labor unions have called for a general stoppage, though it remains to be seen to what extent it will be followed.
Macri complained during a speech Wednesday that the strike "does not help workers at all," accusing unions of "mafia-like behavior."
This week also tens of thousands turned out in the streets of Buenos Aires and main cities in support of democracy, right to work and to protest what is considered the powerful organized labor unions bullying. Allegedly the demonstration with Argentine flags was spontaneous, organized through the social networks, and allegedly with no government meddling, although it was the main beneficiary.
The strike on Thursday coincides with the World Economic Forum on Latin America, which draws business and political leaders to Buenos Aires.