Mercosur and Pacific Alliance summit will address potential convergence and Trump's protectionism
Friday, April 7th 2017 - 10:39 UTC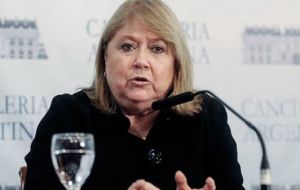 Mercosur and Pacific Alliance foreign ministers are scheduled to meet this Friday in Buenos Aires, on an Argentine initiative to advance in a possible political and trade confluence with the prospect of a regional alliance in the near future. The controversial Venezuela case will also be on the table, but attendants have anticipated that they won't let this issue dominate the agenda or cast a shadow on the purpose of the summit.
"We can expect a strong condemnation of the Venezuelan government, but it won't be linked to the possible implementation of the democratic clause and expulsion of the country since that is in the realm of OAS", admitted Argentine diplomatic sources.
When Argentina, as chair of Mercosur first extended the invitations to Pacific Alliance peers (Chile, Colombia, Peru and Mexico), the Venezuelan situation hadn't reached the current tension, and is determined that despite its significance for the continent and ongoing OAS debate, "it will not distract us from the real objective of coordinating trade and political objectives with the Pacific Alliance".
Nevertheless this does not mean that there are different positions in addressing the Venezuela situation. Colombia is not inclined to insist too much with criticism since Venezuela is a guarantor of the peace process with the FARC insurgents. Mercosur last weekend sponsored a very strong statement demanding freeing political prisoners, respect for the electoral calendar and strict compliance with the separation of powers. In this process Uruguay is the only Mercosur founding member which refuses to implement the democratic clause on Venezuela.
Pacific Alliance sources have also stated that the Buenos Aires summit will be a good opportunity to make a strong statement on Venezuela, referred to political prisoners, the electoral calendar and restoring full powers to the National Assembly.
Malcorra's task will be to ensure the summit is not overshadowed by the Venezuela situation and that effectively the two spaces can address trade understandings, migration, freedom of movement and financial cooperation targeting a major alliance in the continent. This is the aspiration of a renewed Mercosur, with Brazil and Argentina determined to open to the world and dismount barriers to trade. A 180 degrees swing in only 18 months
And another issue even of greater concern for the two groups is the protectionism that US president Trump is preaching or threatening with and which already has had an impact for Mexico, Brazil and even Argentina For Mexico and Brazil, Trump's policies are a real threat and would like Mercosur and the Pacific Alliance to address the issue with a unity political response and commitment to increase trade.