Falkland Islanders asked on proposals to recommend Marine Management Areas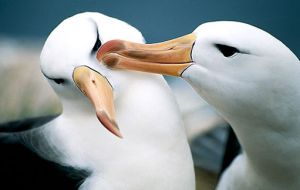 Falkland Islanders are being asked to comment on proposals to recommend three Marine Management Areas (MMAs) to the Falkland Islands Government (FIG). These areas include some of the Falklands most pristine and vulnerable marine environments such as around Beauchêne Island and the Jason Islands archipelago, and include globally important populations of the Black-Browed Albatross and the Rockhopper penguin.
The areas have been aligned with current fishing closure areas so would have no impact on important fishing revenue to the Islands, yet protect 24% of Falkland Island waters.
The Islands Plan (2014-18) has a commitment to 'implement appropriate land and marine spatial planning networks to ensure the preservation and management of both the terrestrial and marine environments of the Falkland Islands'
Following on from a two-year Darwin Plus-funded Marine Spatial Planning (MSP) project which completed in summer 2016, the South Atlantic Environmental Research Institute (SAERI) (on behalf of FIG), has been progressing marine spatial planning in Falkland Island waters, focusing initially on assessing current fishing closure areas against internationally recognized criteria for protected areas and then proposing best options for these Marine Management Areas based on underlying evidence and stakeholder recommendations from the earlier project.
The findings from this work are captured in the AFCAS report (Assessment of Fishing Closure Areas as Sites for Marine Management Areas in the Falkland Islands waters) which has been published for consultation in order to assess public opinion of the approach and results. Neil Golding, the MSP Project Manager from SAERI said this was a crucial step in implementing an effective marine spatial planning process in Falkland Islands waters; a process being steered by FIG and stakeholders, and was important to seek the views of everyone in the Islands at this first stage.
Dr Paul Brickle, Director at SAERI said: "SAERI has been working with other departments in FIG, and in consultation with a wide range of stakeholders, on the development of the marine spatial planning process on the Falklands for the last few years. We encourage everyone to participate in the consultation process and look forward to your thoughts and feedback." The consultation will run for six weeks from Wednesday March 15 to midday on Wednesday April 26.
Mr. Golding said, "We are interested to hear your views on the proposals contained within the AFCAS report which is available to download from the SAERI website www.south-atlanticresearch.org. There will also be a simple online response form available for your convenience.
Paper copies of the report and consultation response forms are also available on request from the SAERI office (Stanley Cottage (North), Ross Road, Stanley)." Copies are also available to view at the Standard Chartered Bank (Stanley Branch), Stanley Post Office and other locations around Stanley (Please note, all responses must be submitted directly to SAERI).
More information is available at www.south-atlantic-research.org or from Neil Golding, the Marine Spatial Planning Project Manager: ProjectManager.MSP@env.institute.ac.fk or telephone 27374. (Penguin News).-