YPF interested in Shell's refinery and network of gasoline stations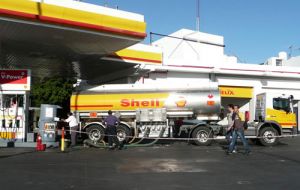 Argentina's state-run oil company YPF is among the bidders for Royal Dutch Shell Plc's refinery and network of gasoline stations in Argentina. Other nationally owned oil companies are interested in the assets but YPF is seen as having an edge because of its strong position in Argentina, the reliable industry sources said.
The assets, including a 113,000 barrel-per-day refinery in Buenos Aires, were put on the block as part of Shell's program of asset sales to pay down debt after acquiring rival BG Group last year.
Shell confirmed it is selling the assets but declined to comment on potential bidders, said spokeswoman Kimberly Windon. YPF declined to comment on the potential bid.
The assets are valued at less than US$1 billion. Oil majors including Shell, Chevron Corp and Exxon Mobil Corp are divesting refineries to focus on more lucrative oil production and exploration, leaving room for regional players like YPF to grow.
Shell CEO Ben van Beurden said last year the company planned to pull out of downstream oil and gas in Argentina, which includes refining and selling fuels.
Goldman Sachs has been retained to market the assets.
Upstream activities, which include oil exploration and production, are not under review.
Argentine newspaper La Nacion previously reported that YPF was interested in the refinery and gas stations.