Brazilian economy gives signs of recovery, but many challenges remain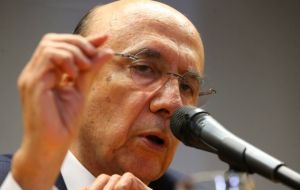 Economic activity in Brazil grew in February at the fastest pace since January 2010, a central bank indicator showed this week, in the strongest sign yet that Latin America's largest economy is emerging from a two-year recession. Bumper harvests are expected to have lifted agricultural production in the first quarter of the year, while industrial output improved on a pickup in car exports.
Brazil's IBC-Br index rose 1.31% from January after seasonal adjustments, the central bank said, after an upwardly revised increase of 0.62% in the previous month.
Evidence of economic growth in Brazil after two years of a severe downturn suggests that government efforts to bolster growth through deep interest rate cuts and market-friendly reforms could be starting to bear fruit.
Commerce and services were forecast to take longer to recover due to record-high unemployment, but nevertheless grew in the beginning of the year, data showed earlier this month.
"The very large upward revisions to the January retail sales and services sector data, allied with the expected large expansion of the agricultural sector gives us confidence that after an 11-quarter-long recession the economy has reached an inflexion point," wrote Alberto Ramos, head of Latin America economic research at Goldman Sachs.
The index measures activity in agriculture, industry and services and is considered an advance indicator of gross domestic product data. Brazil's GDP is forecast to grow 0.4% in 2017 from 2016, when it shrank 3.6%, according to the weekly central bank Focus survey of economists also on Monday.
"The economy will likely get to the end of this year with a meaningful growth rate," Finance Minister Henrique Meirelles said in a speech during an event in Brasilia on Monday.
Economists warn, however, that the economic recovery could falter if President Michel Temer fails to pass a landmark pension reform through Congress in coming months or is toppled by a massive corruption scandal that has ensnared many of the nation's senior politicians. The reform is seen as a crucial step to keeping Brazil's debt under control in the long term.
"Without the reform or with the approval of a weakened proposal, chances are high that the government will not be able to enforce its spending cap and public debt will become unsustainable," economists with Itau Unibanco said in a note.