Chubut province declared in state of emergency and agriculture disaster
Thursday, April 20th 2017 - 06:33 UTC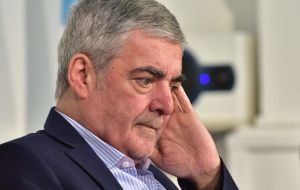 Chubut province in Argentine Patagonia has been declared in state of emergency and eight of its 16 counties in agriculture disaster as a consequence of torrential rainfall and mudslides which have left huge areas isolateds, or cut off from the communications network.
Governor Mario Das Neves said the agriculture disaster period will extend for six months during which time farmers are entitled to present sworn statements with an inventory of losses caused by the exceptional rainfall, which also inflicted terrible damage to Comodoro Rivadavia, where it is estimated 80% of homes have suffered, either swept away by flash floods or inundated with mud.
According to Decree 432 farmers have 30 days, following the publication in the official gazette, to present their sworn statement with a detail of losses, which will be considered valid, given the emergency, by provincial offices. This will open immediately the request for funds.
The decree states that the state of emergency and agriculture disaster extends to all those farmers which have been exposed to unexpected and inevitable environmental factors and with atypical persistence or magnitude.
Likewise farm production, intensive in Chubut fertile valleys, and extensive for sheep and cattle farming have been seriously affected, in the first case simply by the destruction of harvests and infrastructure, and in the second case because paddocks have become inaccessible, impeding activities and delaying the natural calendar of rural tasks.