EU/Mercosur accord is expected to be announced at WTO assembly in Argentina next December
Friday, April 21st 2017 - 10:18 UTC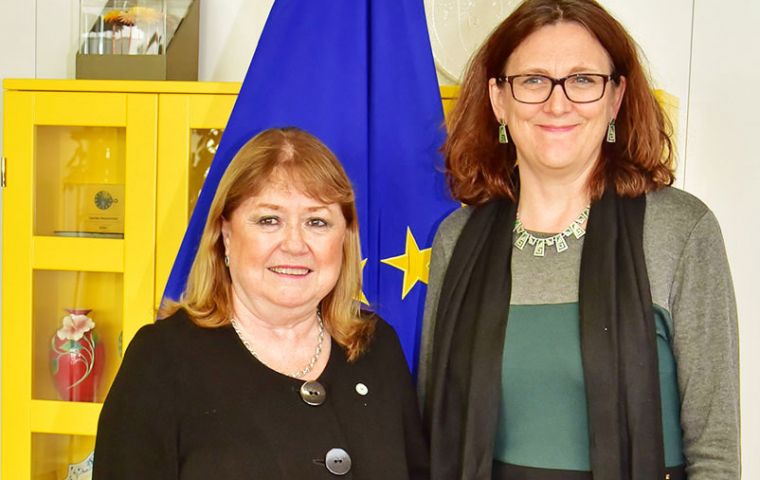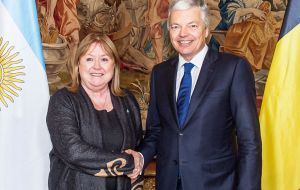 An optimistic foreign minister Susana Malcorra said that Argentina expects the Mercosur/European Union trade agreement to be announced next December during the World Trade Organization meeting to be held in Buenos Aires, and which she described as an event of great political impact.
Malcorra is currently in Brussels where she met with the EU Trade Commissioner Anna Cecilia Malmström and with the chief negotiator of the European Commission Trade Office, Sandra Gallina.
"We are in a consolidation process with the EU. We took off agreeing on commitment but I must admit we were a bit skeptical, both sides. However we have overcome this as confidence building advanced and the moment has come for both sides to put on the table our respective proposals", pointed out Malcorra.
The minister is playing a leading role in the discussions since Argentina currently holds the rotating chair of Mercosur. "The recent round of discussions in Buenos Aires between Mercosur and the EU have been very positive"
Malcorra explained that in all accords the idea is to first advance in those issues which are more simple in generating mutual trust, and then advance on the more critical items. "This is a negotiating technique, since there are sensitive issues which have a great impact on some EU countries and must be addressed, otherwise, the whole accord becomes far more complicated".
The minister revealed that "president Macri will be travelling to Strasbourg to spend time at the negotiations round and to 'socialize' the discussions since both in Mercosur and Europe, there are many interested parties which need to be involved and understand what is going on. It's not exclusively trade we are talking about, it also has a huge political content".
"Based on advances achieved, a text could be drafted and in such a way reach the much expected accord following on our primary timetable, which should be at the end of the year. We would like it to happen at the WTO meeting in Buenos Aires next December, and make the official announcement. We want live, active accords, and as time moves on enrich them".
More specifically on Mercosur coordination, Malcorra said that there is "a clear convergence among the founding members of Mercosur (Argentina, Brazil, Paraguay and Uruguay), a greater conviction that the original idea which brought us together is more valid than ever. Brazil and Argentina at one point, and for some time, excluded themselves to postpone the opening of markets which for the smaller members had a more significant impact: they are now seeing that our projection is far more ambitious".
Malcorra added that a few days ago, sixteen ministers, (foreign affairs, trade) from Mercosur and the Pacific Alliance to discuss ways of building a greater stronger conglomerate. "Besides this, Mercosur is working with EFTA, Singapore, ASEAN, China, Canada and multiple potential associates, so that we can act as an integrated state and achieve a more solid negotiations' position".

Finally Malcorra also met with her Belgian peer Didier Reynders to discuss an agenda which includes a state visit to Belgium of President Macri, and the arrival in Argentina of a numerous business delegation next year with specific interests in different fields.