ExxonMobil betting heavily in developing Argentina's Vaca Muerta shale gas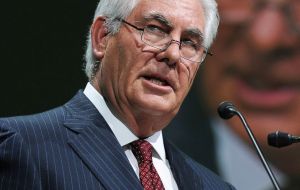 ExxonMobil is planning to speed up investment plans for shale gas drilling in Argentina's prized Vaca Muerta formation in the Neuquen province. Exxon will start drilling Vaca Muerta in May, by drilling horizontal wells with laterals of 2,500-3,000 meters, Neuquen province governor Omar Gutierrez said this week.
The U.S. major's total investments in developing Vaca Muerta will have reached US$750 million by the end of this year, said Gutierrez, who discussed Exxon's plans with executives of Exxon and its subsidiary XTO in Houston last week.
ExxonMobil Exploration Argentina (EMEA) has been present in Vaca Muerta since 2010. Last year, following the successful initial exploration results in the Bajo del Choique-La Invernada block, EMEA launched a pilot project to continue to assess the productivity and recovery of horizontal wells in Vaca Muerta. The project includes drilling five wells, as well as early production facilities and a gas pipeline.
The pilot project was expected to take up US$250 million of investment. In June last year, then Exxon chairman and CEO Rex Tillerson said that based on the project's results, the super-major would launch full-scale development over the next 20-30 years for an investment that could be "well in excess" of US$10 billion.
Now, according to Neuquen's governor Gutierrez, Exxon and XTO expect to boost gas production to 5 million cubic meters per day within the next 2-3 years.
The sooner a company starts producing gas, the more pricing incentives they can get. In a bid to boost domestic gas development, Argentina has extended the pricing incentives through 2021.
Producers will be paid US$7.50/MMBtu for their production by the end of 2018, and then the incentives would gradually decrease to US$6/MMBtu in 2021. Free market pricing is expected to come into effect in 2022
Argentina is trying to boost its domestic shale gas output in an effort to reduce imports.
The country's natural gas production increased in 2015 for the first time since 2006, but Argentina is still a net importer of natural gas. Plans are that the country could stop importing LNG by 2022. Vaca Muerta has an estimated 308 trillion cubic feet of technically recoverable shale gas resources, and has been compared to the Eagle Ford play in Texas in terms of depth, thickness, pressure, and mineral composition.
Exxon's push in Argentina's shale should not come as a surprise, after the major said last month that it would invest in shale a quarter, or US$5.5 billion, of its 2017 spending budget, mostly in the U.S. "More than one quarter of the planned spending this year will be made in high-value, short-cycle opportunities, including in the Permian and Bakken basins," Exxon said in its statement.
Argentina's Vaca Muerta has attracted many other international players seeking exposure to shale exploration and drilling. Chevron, for example has been developing areas together with Argentine oil company YPF. In Chevron's non-operated Loma Campana concession in Vaca Muerta, 58 horizontal wells were drilled last year, and the drilling program is expected to continue this year, the U.S. major said in its 2016 annual report.
YPF and Schlumberger signed last week an agreement to start a shale oil pilot project in Bandurria Sur Block in Vaca Muerta, involving US$390 million in phased investment by Schlumberger.
Argentina's Tecpetrol said last month that it would invest US$2.3 billion by 2019 in the first phase of the development of the Fortín de Piedra area in Vaca Muerta. A total US$1.6 billion of the investment is planned to go for drilling of 150 wells, and another US$700 million will be spent on the construction of treatment facilities and gas pipelines.
Earlier this week, Shell opened a 10,000-bpd oil and gas treatment plant in its acreage in Vaca Muerta. Last year, the Anglo-Dutch oil and gas major said it would pour US$300 million annually into its Vaca Muerta operations until 2020, both in upstream and downstream.