Spain's Rajoy visits Brazil and Uruguay to stress trade and Mercosur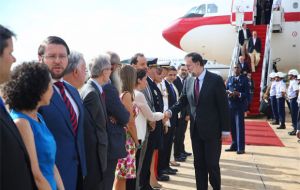 Spanish Prime Minister Mariano Rajoy arrived in Brazil on Sunday on an official two-day visit during which he will meet with President Michel Temer and follow a markedly economic agenda, including Mercosur and current ongoing talks with the EU in Brussels. The second leg of the trip will take Rajoy to Uruguay.
Rajoy's visit to Brazil is the first by the head of a European government since Temer took over the presidency last May. The Spanish leader's official agenda begins Monday with a meeting with Temer at the Planalto Palace. The two will preside over the signing of several agreements and will later appear before reporters.
To be discussed at the meeting are bilateral relations, the political and economic situations of the two nations, the current Latin American scenario - including the situation in Venezuela, and other international issues.
Rajoy is expected to reaffirm Spain's full commitment to the trade and cooperation accord between the European Union and Mercosur founding members, (Brazil, Argentina, Uruguay and Paraguay), and which is in the midst of round of talks expected to reach an understanding in the next twelve months.
On Monday afternoon the Spanish president will travel to Sao Paulo, where he will attend the inauguration ceremony for the Telebras-Islalink undersea telecommunications cable and will be the main speaker at the close of the first Spain-Brazil Forum
On Tuesday, he will meet with Sao Paulo Gov. Geraldo Alckmin and with representatives of the Spanish community in Sao Paulo state before attending a meeting between businessmen from both countries. Later in the day he will leave for Uruguay.
This is Rajoy's first trip to Latin America since he was again voted in last October.
Spain-Brazil bilateral trade reached US$ 5.7bn. Brazil is Spain's second-largest customer in Latin America, and the South American country is also the third-largest destination for Spanish investment, behind the US and the UK.