Major earthquake rocks Santiago: no human losses, energy and cell phone networks partially down
Tuesday, April 25th 2017 - 06:28 UTC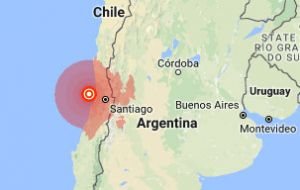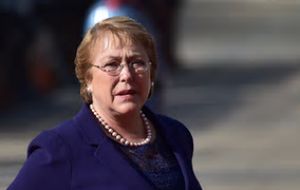 A strong earthquake of magnitude 6.9 struck off the west coast of Chile on Monday, rocking the capital Santiago and briefly causing alarm along the Pacific Coast but sparing the quake-prone nation of any serious damage. The quake was centered about 137 km from Santiago, and some 35 km west of the coastal city of Valparaiso.
The U.S. Geological Survey twice revised the magnitude before settling on 6.9, a strength usually capable of causing severe damage.
The epicenter's shallow depth of 25 km below the sea allowed it to be felt hundreds of km away. Santiago office buildings swayed for about 30 seconds at the end of the workday. Closer to the epicenter, residents scrambled for higher ground remembering the lessons of the country's devastating earthquake and tsunami in 2010.
President Michelle Bachelet was aboard an aircraft flying to the north of the country when the quake was registered, and on landing sent a message of calm and praise.
"So far there has been no human loss nor significant damage," Bachelet said, praising people for evacuating in an orderly fashion in the immediate aftermath.
Officials canceled a tsunami warning that had been issued in Valparaiso. The Pacific Tsunami Warning Center reported small tsunami waves of 15 cm.
There were no reports of structural damage in Valparaiso, but cell phone networks were down in some places, a spokesman with the local government said.
Interior Minister Mario Fernandez said there had been some landslides but "in general the situation is pretty normal bearing in mind the quake's intensity."
Copper mining was unaffected, according to Chile's state-run Codelco, one of the largest copper mining companies in the world, and Anglo American, which has copper operations in central Chile.
But interruptions in the electricity supply led the Aconcagua oil refinery to temporarily suspend operations for safety reasons, state-run oil firm ENAP said. There was no damage to either of Chile's two refineries, ENAP said.