Falklands: Argentine investors project to build a Howard Johnson hotel in Stanley
Friday, April 28th 2017 - 11:01 UTC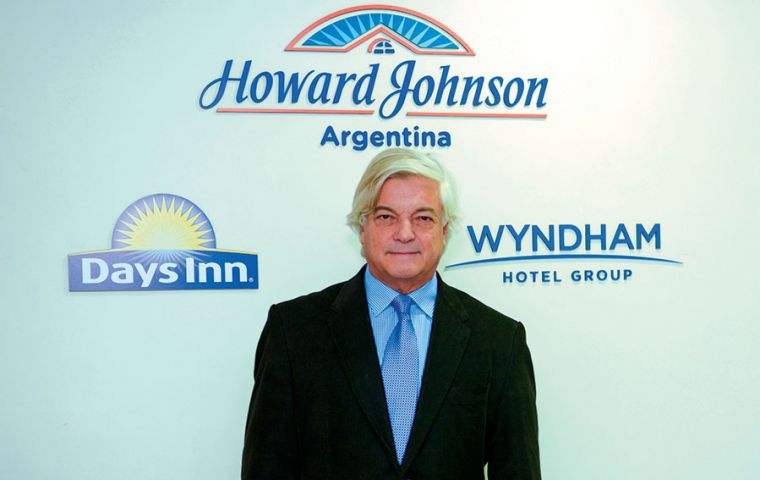 An Argentine businessman and partner of the US based Howard Johnson, with 37 hotels under that name in Argentina, Uruguay and Paraguay, is attempting to refloat an old project to install a 40 rooms complex in the Falkland Islands, according to media reports in Buenos Aires.
Alberto Albamonte, first attempted such a project to be financed by Argentine investors back in 1999, (at the time of ex president Carlos Menem), but apparently the first step, requesting authorization from the Argentine foreign ministry was rejected in 2000.
"It's not an easy project, besides permission from Argentina we need authorization from the Falklands, but at the time we did advance on the feasibility, since we had a positive reply from Islanders and the 'local government'", revealed Albamonte.
The businessman said that recently he was approached by "a group from the Argentine farming industry" interested in the project and "we started again, and with that purpose the same person who visited the Islands then, will be travelling next September to find out about all the necessary paperwork and if there are lots available to be purchased".
The project is a hotel of 35/40 rooms under Days Inn, from the Wyndham Hotels & Resorts (Howard Johnson group), to be built in Stanley with a cost estimated in some 3.5 million US dollars.
Albamonte added that hotel and lodging capacity in the Falklands is insufficient with one hotel (charging US$ 300 the night) and the rest private homes renting out rooms.
The businessman said that an English teaching organization in Argentina is interested in renting a number of rooms the whole year with the purpose of sending students to practice English in the Islands.
"If we find the right piece of land we can sign the purchase ticket, and then request authorization from the Argentine foreign ministry and the local government, but although we are still at the beginning we know we can count with the approval from the Argentine government".
Albamonte is also aware of recent events involving the Dolphin Fund Limited group, belonging to an Argentine real estate tycoon, Eduardo Elsztain, who holds a 2.5% stake of Falkland Islands Holdings, FIH, and is trying to increase his share in the company.
Howard Johnson has been in Argentina since 1999, and currently has 37 hotels under that name in Argentina, Uruguay and Paraguay, and has another 26 under construction. Albamonte is described as a 'strategic partner' of the US group with the initiative to set up HJ hotels anywhere in the world.