General strike in Brazil to protest changes to labor laws and pensions system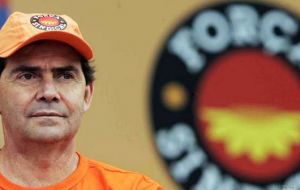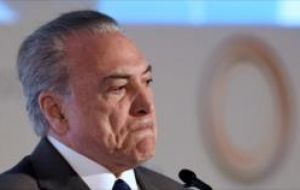 Public transport largely came to a halt across much of Brazil on Friday as protesters blocked roads and scuffled with police in a general strike to protest proposed changes to labor laws and the pension system. It is the first general strike in over two decades.
"It is going to be the biggest strike in the history of Brazil," said Paulo Pereira da Silva, the president of trade union group, Forca Sindical.
President Michel Temer's administration argues that more flexible labor rules will revive a moribund economy and warns the pension system will go bankrupt without changes. Unions and other groups called for the strike, saying that the changes before Congress will make workers too vulnerable and strip away too many benefits.
Strikers are opposed to the pensions overhaul, which will be voted on in Congress next week and which could set the minimum retirement age at 65 for men and 62 for women. Public sector workers have been able to retire at much earlier ages.
A congressional bill to weaken labor laws also progressed earlier in the week, and the country is experiencing an ever unfolding corruption scandal, which has been linked to many top politicians, fuelling further public discontent.
In Sao Paulo, the country's largest city, most commuter trains and metro lines were stopped during the height of morning commute, and buses stayed off the roads. Later in the morning, several metro lines, trains and suburban buses began offering service. In Rio de Janeiro, buses ran partial service.
Protesters in both cities set up roadblocks, placing barricades and starting fires in the streets. In Sao Paulo, protesters carrying signs calling for Temer's ouster blocked lanes of major highways.
Police used tear gas to break up protesters blocking roads to Congonhas Airport, the smaller of Sao Paulo's two airports. A group of homeless people and activists blocked a road to the larger Guarulhos Airport. Both, however, were open.
Protesters at Santos Dumont Airport in Rio de Janeiro created confusion by running through the terminal and pushing down the line dividers at check-in counters. Also in Rio, protesters blocked a major road and scuffled with police who tried to dislodge them. Police fired tear gas, and protesters threw stones at buses in a nearby terminal.
There were also street barricades in Belo Horizonte and in the capital Brasilia where government offices and buildings were heavily guarded with militarized personnel.
Brazil's economy is in a deep recession, and many Brazilians are frustrated with Temer's government. Temer has argued that the proposed changes will benefit Brazilians in the long run. But with so many out of work, many feel they can ill afford any cuts to their benefits.