Malcorra downplays possibility of Falklands requesting visa for Argentine visitors
Wednesday, May 3rd 2017 - 06:27 UTC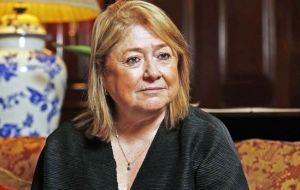 Argentine foreign minister downplayed the news that the Falkland Islands could impose a visa system for Argentines visiting the Islands, although admitting the ministry is following the issue closely and insisted that confidence building with the local population takes time.
"Such a decision does not belong to the local government of the Malvinas Islands, but to the United Kingdom and I strongly doubt the UK is thinking on that. We're following the issue closely but I wouldn't give the matter a maximum concern", Malcorra told reporters when asked on the Falklands Legislative Assembly discussion on the visas issue, which has emerged as a result of acts of misconduct attitude displayed by some small groups of visiting Argentines.
In effect the latest edition of Penguin News published that the concept of introducing visas for Argentine visitors is an ongoing consideration and MLA Mike Summers said he was attracted to the idea of introducing visas for visitors from Argentina.
This was in reply to a comment from a Falkland Islander who pointed out the increase in the number of Argentines visiting was leading to, "more Argentine flags and provocative clothing insignia," being displayed and, "more detritus left around battle memorials," and that this was causing concern and stress to local people.
However Malcorra underlined that the objective of the Argentine government is to create the necessary confidence building, including with the Falkland Islanders, but building on this "takes time".
"We are intent in generating overall mutual confidence building measures, and this takes time. In fact we have not advanced much in these confidence measures, and we are will have to see how they evolve, if they effectively do and how this generates reciprocity", said the Argentine official.
But Malcorra downplayed the issue, "I wouldn't look at it as extreme. I would yes follow it, that is my responsibility, but I wouldn't consider it that serious".