EU and US agree to Maersk Line acquiring Germany's Hamburg Sud, expert in South America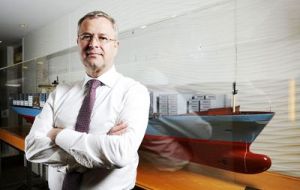 Container shipping company Maersk Line will pay EUR 3.7 billion for its acquisition of smaller German rival Hamburg Sud, including all subsidiaries and associated shipping companies. The boards of Maersk Line and the Oetker Group, owner of Hamburg Sud, approved the proposed deal, which has been given the green light by the European Commission and the US Department of Justice.
"Maersk paid a significant amount for Hamburg Sud, but considering the wave of consolidation in the industry ... you do not get anything cheaply," Sydbank analyst Morten Imsgard said, adding that the final price was just within his highest estimate.
For his part, Dr August Oetker, Chairman of the Advisory Board of Oetker Group, stressed that the due diligence process carried out in the past months confirmed that Hamburg Süd is a stable and excellently positioned company and will be an attractive addition to the existing business area of the purchaser, Maersk Line.
The Danish shipping firm estimates that combined, the two companies will be able to realize annual operational savings of about US$ 350 million to US$ 400 million during the first two years following the transaction settlement.
"By keeping Hamburg Sud as a separate and well-run company, we will limit the transaction and integration risks and costs while still extracting the operational synergies," said Soren Skou, CEO of both Maersk Line and its parent A.P. Moller-Maersk Group.
The proposed acquisition will strengthen the presence of the Danish firm in the global trade, especially in Latin America, where Hamburg Sud has been operating for decades.
"The job is now to realize those synergy effects, and integrating shipping companies is not without obstacles," Imsgaard said, referring to past acquisitions that have resulted in a loss of market share in some areas.
Maersk is also in the process of spinning off its energy division, either by seeking alliances or a listing, to focus more sharply on its transport division. The proposed acquisition will still need approval from regulatory authorities in countries such as Brazil, China and South Korea and the company expects to secure these by December or early 2018. (FIS)