Falklands' lawmaker underlines "visas are our business"
Friday, May 5th 2017 - 07:23 UTC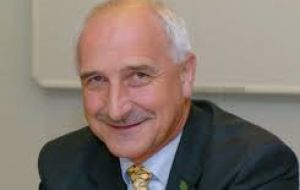 "Visas are a matter for the Falkland Islands Government to determine," confirmed Member of Legislative Assembly Mike Summers this week.Reacting to a story in last Friday's Penguin News the Argentine Foreign Minister Susana Malcorra claimed in the Argentine press it was not for the Islanders but the UK government to make decisions over visas.
The Penguin News story had noted that some MLAs approved of the idea of issuing Argentine visitors with visas in order to control the size of groups of Argentines visiting at one time.
The argument is it might reduce incidents of distressing nationalist behavior by visitors.
MLA Summers told Penguin News the Falklands visa regime was different from the UK regime: "However we would inevitably consult HMG for their view on any proposals".
Speaking to the Argentine media, MLA Summers said that Falklands authorities want to prevent "antisocial conducts" given the growing number of complaints from Islanders regarding distressing and disrespectful attitudes from individual visiting Argentines.
MLA Summers described as "aggressions" graffiti in public places and buildings, exhibition of nationalistic banners and flags which threaten peace in the Falklands, and noisy disrespectful behavior which makes some people feel harassment and anguish.

"It is the responsibility of the Falklands government to ensure that none of its citizens is improperly distressed or anguished by visitors behavior, and particularly to protect those who have suffered traumas associated with the invasion of the Falklands in 1982".