Reefer in distress heading for the Falklands; scheduled to arrive Saturday morning
Saturday, May 6th 2017 - 07:44 UTC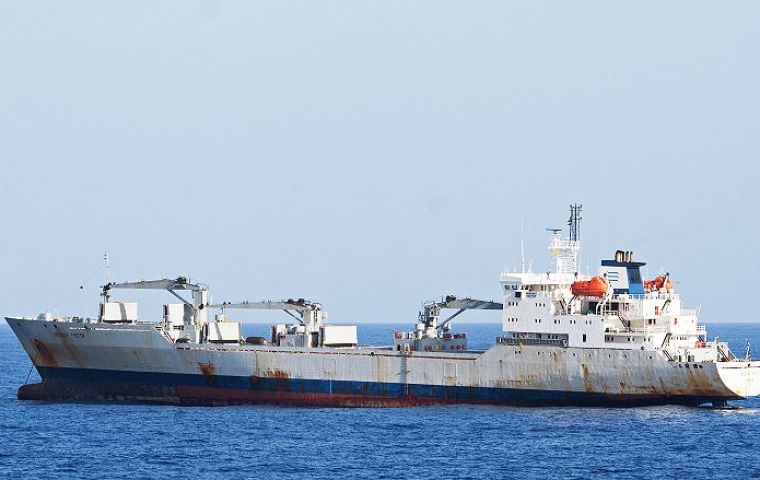 A Panama flagged merchant vessel with a crew of 42 sailing in the South Atlantic sent a distress call following "a massive intake of water" in one of its holds, but will attempt to reach the Falkland Islands on its own means, according to a Friday report from the Argentine navy.
The "Uruguay Reefer" called for help when she was sailing some 100 nautical miles west from Elephant Island. The message was received by the Argentine navy maritime and fluvial search and rescue agency, which immediately contacted the SAR coordination center in Ushuaia, and has since been monitoring the situation.
According to the release, the ship's crew reported the emergency when she suffered "a massive uncontrolled input of water to hold number two".
However the vessel with a cargo of refrigerated containers, and having its own power, decided to head for the Falkland Islands. Meantime a P3B Orion patrol vessel from the Argentine navy took off from Ushuaia and overflew and filmed the Uruguay Reefer. The report was that the vessel is slightly listed on port side.
The Argentine navy release says the captain of the distressed vessel decided to continue to the Falklands where it will receive support from two of its company's vessels, expecting to reach Saturday morning.
The report ends pointing out that nevertheless the navy has the ARA Islas Malvinas from the Austral Naval Command ready to depart from Ushuaia in support of the distressed Uruguay Reefer if needed.
The vessel's IMO is 9017264; MMSI: 356962000; Vessel Type: REEFER; Gross Tonnage: 10629; Summer DWT: 10587 t; Build: 1993; Call Sign: 3FNJ; AIS Vessel Type: Cargo; Deadweight: 10587 t; Length Overall x Breadth Extreme: 150.3m × 22.6m. She is transporting agricultural commodities.