Punta Arenas 2016/17 cruise season: 99 calls and 67.560 visitors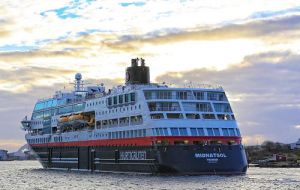 Punta Arenas, extreme south of Chile received 73.358 visitors during the last 2016/17 cruise season ending in April, of which 67.560 (92.1%) arrived in international vessels and 7.9% in domestic vessels.
The number of cruise calls was 99, of which 61 international and 38 domestic. The numbers were announced by Ignacio Covacevich, General manager of the Austral Port Company that runs the Punta Arenas and Puerto Natales harbors.
The number of visitors and calls was similar to the previous season, which was exceptional with a 35% increase, and for the coming 2017/18, Covacevich estimated those numbers "should increase between 3% and 5% in line with the industry's world tendency".
Covacevich also pointed out two significant facts about the just ended season: the Antarctica Norwegian cruise vessel Midnatsol has confirmed that Punta Arenas will continue to be its operational base, and secondly a survey of cruise landed visitors showed that average per capita expenditure has increased from US$ 62.5 to US$ 84. This means that the overall injection to the Punta Arenas economy during the season was over US$ 6 million
"The arrival of M/v Midnatsol from Norwegian cruise line Hurtigruten, which this season already operated from Punta Arenas to Antarctica is encouraging for our local economy since it means overnights and increased spending", underlined Covacevich.