Tories advance in council elections forecasts a strong result for Theresa May on 8 June
Monday, May 8th 2017 - 05:15 UTC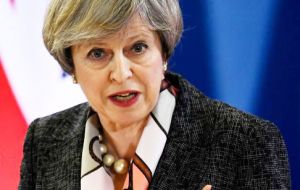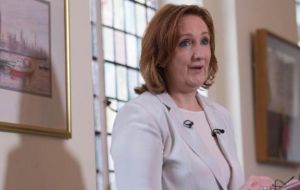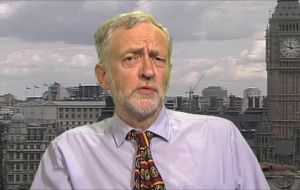 British Prime Minister Theresa May said she was "taking nothing for granted" following her Conservative party's good showing in local election results reported on 5 May. The party gained control of 11 councils for a total of 28 and added 559 new councilors across England, Scotland and Wales.
"Only a Conservative vote at the general election will strengthen my hand to get the best Brexit deal" May told supporters on receiving the results and looking ahead to the general election of 8 June and the Brexit negotiations.
Opinion polls suggest Mrs. May has a runaway lead in the national election of around 20 percentage points, which could give her over a 100 more seats in parliament, compared to the 17 working majority she enjoyed in the last parliament.
The far-right, anti-EU party UKIP suffered in local elections, losing 143 seats and keeping just one seat in Lancashire, as the Conservatives won council places at their expense.
UKIP deputy chairwoman Suzanne Evans acknowledged the party faced a "difficult dilemma."Labour Party, led nationally by Jeremy Corbyn, saw its share of the vote fall in England, Scotland and Wales as it lost 382 seats and lost control of seven councils to retain just nine councils.
Party spokesman John McDonnell described the results as tough, but "it hasn't been the wipe-out that some people predicted or the polls predicted."
Labour lost seats evenly across England, Scotland and Wales. In Scotland, the party lost control of Glasgow council for the first time in more than 35 years.
A forecast return of voters to the Liberal Democrats failed to materialize, with the party seeing a net loss of 38 seats.
In Wales, the Conservatives won more than 70 seats and independent candidates added 10 as Labour lost seats but remained the most dominant party. Nationalist party Plaid Cymru gained 33 seats for a total of 202 with control of one council.
The Scottish National Party (SNP), which campaigned for remaining in the EU and is committed to independence from the UK, took a majority of votes north of the English border to remain the biggest party in the council elections with a total of 431 seats.
Party leader Nicola Sturgeon said her party had achieved "a clear and emphatic victory."
"The SNP has won the council elections," Sturgeon said on Friday. "We have more votes, more seats and are in the driving seat of more councils than any other party." She said it was a "very, very good result" which would provide a great launch pad for the general elections where the SNP is defending 56 of Scotland's 59 seats in the Westminster parliament.
The Conservative party gained seats in Scotland, mainly at the expense of Labour, and increased their total number of councilors by 160. Conservative candidates won four of the six new posts of "metro" mayor in urban regions although turnout was low, averaging 29%.
Former head of the retail chain John Lewis, Andy Street, became the regional leader of the West Midlands, narrowly seeing off former Labour MP Sion Simon.
Street called his win the start of a "new, urban Conservative agenda."
In Tees Valley, Conservative Ben Houchen won after a run-off against Labor's Sue Jeffrey and Conservative Tim Bowles was declared the winner in the West of England.
The Conservative James Palmer became the first mayor for the Cambridge and Peterborough region.
Labor's former Health Secretary Andy Burnham was elected mayor of Greater Manchester.
"This is the dawn of a new era, not just for this city region, but for politics in our country," Burnham said. "It has been too London-centric for too long. The old political and party structures haven't delivered for all people and for all places."
Labour also won Liverpool City Region where former MP Steve Rotherham became mayor.
The six combined authority mayors will decide their region's economic strategy, and many will have powers covering other areas such as transport and housing.