Macri receives Italian president to boost "unique" links and EU/Mercosur talks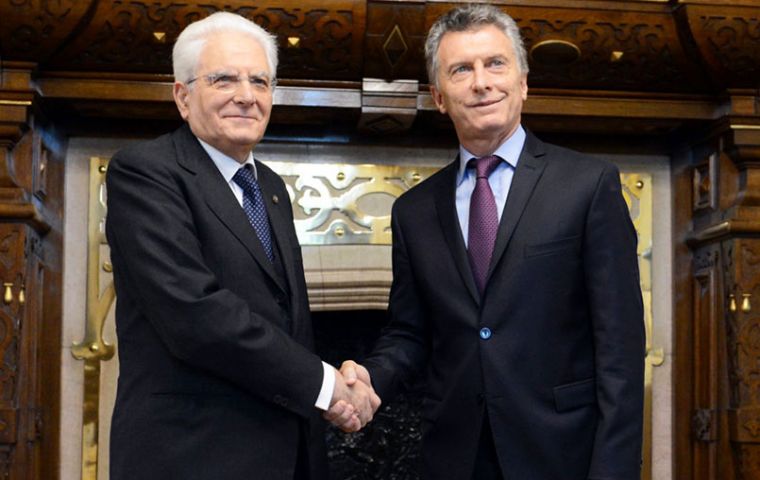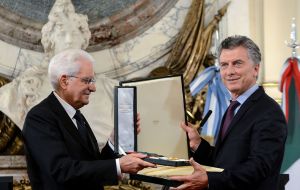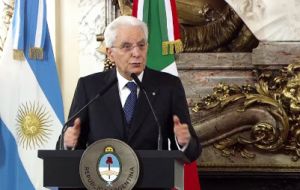 President Mauricio Macri met on Monday midday with his Italian counterpart, Sergio Mattarella, who is in Buenos Aires on the first official visit by an Italian president to Argentina in 16 years. The two leaders underlined the unique links between Italy and Argentina and announced the re-launching of diplomatic and trade relations.
"The visit of president Mattarella is evidence of the affection of Italy towards Argentina but also of trust in the process that has been started in Argentina since 2015" said president Macri.
Following a private meeting both presidents and officials from the two delegations held a round of talks, signed agreements, followed by an exchange of medals, and a joint press statement.
Macri pointed out that almost half of the Argentine population is Italian descendent and that it represented a commitment to work for a shared future.
The Argentine president also praised the results of the bilateral meeting particularly the agreement on law and order issues, with exchange of knowledge, technology and information, and the determined commitment to jointly combat organized crime, drugs cartels and terrorism.
Other areas the two countries will address jointly are climate change, developing science and technology, with special emphasis on the bio-economics. The bilateral agreements subscribed also referred to transport, environment, science and technology, culture, education and security.
Macri expressed Argentina's determination to reach a wide ranging trade agreement between Mercosur and the European Union, since integration of both blocks will be a marvelous opportunity to create opportunities, jobs, reduce poverty and a shared development.
President Mattarella agreed with the Argentine leader on the significance of a Mercosur/EU agreement which means a market of 700 million people, "an important objective for our countries, for the communities we belong to and also for the equilibrium of the international community", and which is the last round of talks, was displayed in "a very positive way, almost resolute".
"It is an agreement that will be reached and to which Italy is putting all its effort. It will also represent an important signal of open markets policy, which is of the interest of all countries from the international community".
Mattarella underlined that besides the unique relation of Italy with Argentina, Italy this year is chairing the G7 and next year Argentina will be doing the same with G20, and these are great opportunities to address international policies.
Finally the Italian head of state said the re-launching of bilateral collaboration was "a milestone for both countries, and pledged Italy would do all which is necessary so that all the agreements signed advance, as well as the ongoing institutional and economic links"
Mattarella's delegation includes representatives from some of Italy's largest companies, such as Alitalia, Pirelli and Fiat, who are meeting with Argentine business leaders.
In February 2016, former Italian Prime Minister Matteo Renzi visited Buenos Aires to discuss efforts to promote bilateral trade and relations with Macri.
On Tuesday the Italian president is scheduled to visit the Argentine Congress and Supreme Court.