Argentine president Macri off to China and Japan in search of investments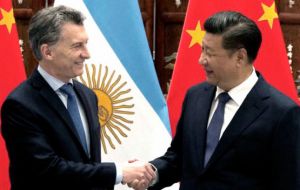 Argentine president Mauricio Macri and a delegation of ministers and governors, are off for an Asian tour in search of investments that includes the Arab Emirates, China and Japan. The undertaking is looking for billions of dollars to help develop Argentina's infrastructure.
In China Macri is scheduled to participate next Sunday in an international cooperation forum which has convened heads of state and government from 28 different countries.
Next Wednesday, 17 May Macri will be received in Beijing by president Xi Jinping, when the two countries will be signing several accords in agro-industry, energy, transport and mining, totaling more than 30bn dollars, including the funding for two nuclear powered plants.
While in China the Argentine leader will hold meetings with Chinese business people and potential investors, and is expected to attend soccer matches in which Argentine top league teams will be playing, Boca Juniors and Argentina Juniors.
On Thursday it will be Tokyo and Macri will be received at the Imperial Palace by Emperor Akihito and Michiko. Later he will meet with Prime Minister Shinzo Abe for private talks. Abe will host at a special event the Argentine delegation which also includes First Lady Juliana Awada, and Macri is scheduled to open an Argentina/Japan Economic and Business Forum.
The Argentine delegation includes foreign minister Susana Malcorra; Juan Jose Aranguren, Energy minister; Guillermo Dietrich, Transport; Francisco Cabrera, Production; Ricardo Buryaile, Agrobusiness; Environment affairs, Sergio Bregman and Strategic Affairs advisor, Fulvio Pompeo. Governors invited to accompany Macri are those from San Juan, Jujuy and Rio Negro.