Theresa May campaigning after working-class voters "abandoned by Labour"
Friday, May 12th 2017 - 07:52 UTC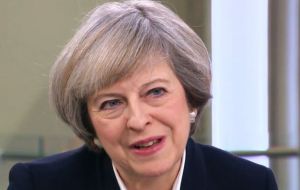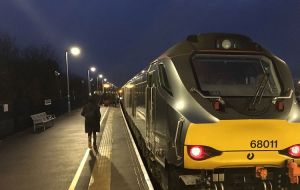 Conservative PM Theresa May will claim Labour has "deserted" working-class voters as she campaigns in the north east of England on Friday. She will pledge to campaign "in all corners" of the UK to reach those who have been "abandoned by Labour".

PM May will say that people have voted Labour for generations but many are "appalled" by Jeremy Corbyn's beliefs. Mr. Corbyn says the pledges in Labor's manifesto - a draft of which was leaked on Wednesday - will be "very popular".

The leaked draft contains policies on nationalizing railways, renewing Trident weapons, abolishing university tuition fees and scrapping the public sector pay cap.

Speaking after his party unanimously approved the final version, which will be officially unveiled next week, Mr. Corbyn said it would be "an offer that will transform the lives of many people in our society and ensure that we have a government in Britain on 8 June that will work for the many, not the few".

But Mrs. May will say his program represents a return to "the disastrous socialist policies of the 1970s". She is expected to add that "proud and patriotic working-class people in towns and cities across Britain have not deserted the Labour Party - Jeremy Corbyn has deserted them".

"We respect that parents and grandparents taught their children and grandchildren that Labour was a party that shared their values and stood up for their community. "But across the country today, traditional Labour supporters are increasingly looking at what Jeremy Corbyn believes in and are appalled."

PM May will highlight Conservative policies to cap energy bills, protect workplace pensions and improve mental health provision, while investing in the armed forces.

"I will be reaching out to all those who have been abandoned by Labour and let down by government for too long. I will be doing everything I can to earn their trust," she will say.

"My commitment to them is this: if you put your trust in me, back me, I will strive to be a leader worthy of our great country."

Meanwhile, a ComRes survey carried out for the Daily Mirror suggests Labor's general election pledges are more popular among voters than Mr. Corbyn himself. ComRes interviewed 1,021 adults online on 11 May and found 52% backed Labor's proposals to renationalize the railways - as set out in the leaked draft manifesto - with 22% against.

The party's proposed reforms to the energy market were supported by 49% with 24% against, while 50% backed re-nationalization of the Royal Mail, with 25% opposed. Banning zero hours contracts was supported by 71% with 16% against, and 65% said they agreed with raising income tax for people earning more than £80,000 a year, with 24% opposed.

However just 30% agreed that Mr. Corbyn should be given a fair chance at leading the country, while 56% said he would be a "disaster" as prime minister.