UK/Uruguay confirm Antarctic cooperation with Montevideo visit of two BAS research vessels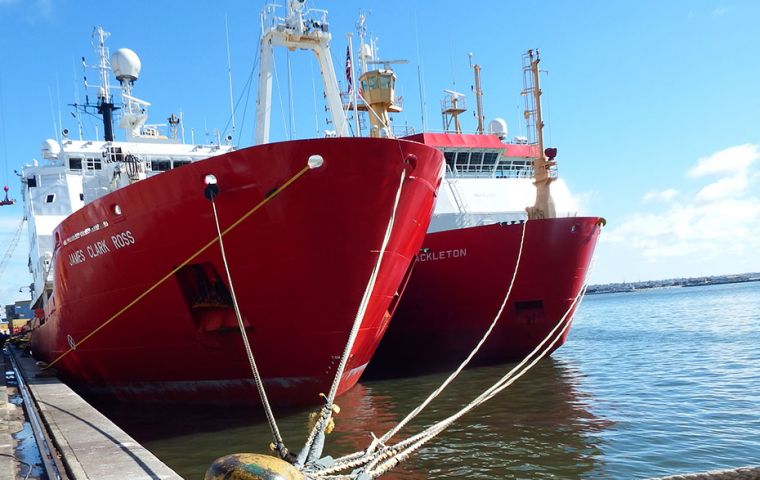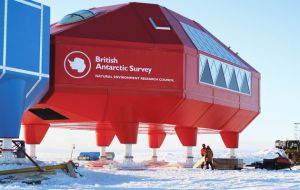 Two British scientific research vessels coincided in Montevideo in early May at the end of the Antarctic season, in their way back to Southampton. Icebreaker RRS Shackleton and RRS James Clark Ross with sophisticated scientific research equipment and tens of experts in different disciplines spent months in Antarctica and returned to Montevideo, a traditional call port the British Antarctic Survey, BAS.
In Montevideo fresh crews took over the icebreakers for the last leg of the trips back home, although with different courses: Shackleton sails back directly to England with an only call in Ascension Island, the British Overseas Territory, where London is studying conditions to establish a marine protected area in surrounding waters.
RRS James Clark Ross will continue along South America and then across to Africa calling at several ports before reaching UK. Both vessels are scheduled to continue activities during the boreal summer in the North Pole at the UK base Ny-Alesund in the Spitsbergen Island.
While in Montevideo, Uruguay and the UK, both full members of the Antarctic Treaty exchanged Antarctic experiences, strengthened cooperation and looked into other possible areas to advance scientific research. Uruguayan scientists have participated in Antarctic cruises in BAS vessels and the exchange with the local Uruguayan Antarctic Institute, Uruguayan universities and other local research organizations is valued as highly positive by both sides.
Uruguay and UK links and cooperation in Antarctic issues have been ongoing for over a century, and London was a strong sponsor for Uruguay's membership of the Antarctic Treaty. Uruguay has a base in King George Island (1984) and a season's station (1997) on the continent which was ceded by UK.

RRS James Clark Ross is primarily a marine science vessel for biological, oceanographic and geophysical research, a floating laboratory which surveys the ocean floor, marine species, climate change, deep diving, ice pattern and age, microorganisms and the food chain in Antarctica frozen waters. Research is undertaken by BAS scientists together with experts from UK and world universities, which specialize in polar studies, and particularly in Antarctica, nature's perfect lab on climate change and ice shelves.
The sediments of waters in Antarctica hold a record of the past and provide scientists with information on the age of ice coverage and the RRS James Clark Ross has special corers capable of obtaining meters deep sediment cores from the sea bed. Likewise it has a wide range of sampling equipment, trawl nets to investigate stocks of commercial species to fish.
Captain Tim Stockins, confirmed that is has been clearly established, backed with scientific research that the global warming continues to increase year after year.
The 100 meters long RRS James Clark Ross with a 5.732 tonnage, has a maximum personnel capacity of 80, of which 52 are expedition personnel including researchers. She is named after James Clark Ross, the British polar explorer who discovered the north magnetic pole (1831), and in the south the fantastic ice barrier, also honors his explorer's stamina.
RRS Shackleton is also equipped and involved in scientific operations but its main task is logistics support for BAS bases, supplying fuel, provisions, staff shifts. It is prepared for mooring in ice conditions to deliver supplies and has a helicopter for distances with no sea access. Planning for the annual operation, in August in England, the cargo is readied for loading with careful records to ensure everything is packed correctly and reaches the correct destination. Loading is completed in October when she leaves for the south.
Shackleton and James Clark Ross are flagged in the Falkland Islands, since they are a crucial link, as well as the last South American port, for Antarctic operations. BAS has offices, deposits and aircraft in Stanley.
Reaching BAS Rothera is relatively simple, for the extreme conditions in which the research vessels operate, since it has precarious but efficient mooring facilities. However the same can't be said of BAS Hailey surrounded by ice, which demands finding a safe place to unload and from then on sledges hauled in trains by snowmobiles across the ice.
This year BAS has decided not to winter at Halley for safety reasons. The station, which is located on the floating Brunt Ice Shelf in Antarctica, will shut down between March and November 2017. Changes to the ice, particularly the growth of a new crack, presents a complex glaciological picture that means that BAS scientists are unable to predict with certainty what will happen to the ice shelf during the forthcoming Antarctic winter.
RRS Shackleton also has scientific capacity and facilities including dry and wet laboratories, cranes and surveying and oceanographic equipment. Climate records, ice thickness, micro and macro biological cycles (plankton, lichens and moss), water and sea floor samples, some of which are transported for further research to Cambridge where BAS main offices are located, are some of the research work.
One of BAS recent successes has been the identification of the hole in the ozone layer with its negative impact on the environment.
RRS Shackleton has a 4.028 gross tonnage, and 72 personnel capacity of which 50 expedition personnel including researchers. The icebreaker is named after Sir Ernest Shackleton the famous polar explorer who travelled several times to Antarctica, and in best remembered for this 1915 attempt to cross the continent. However it turned out to be an epic adventure of survival under most extreme conditions when Shackleton was finally able to rescue his entire crew, when their vessel was trapped and crushed by winter ice