Argentina joins Beijing's OBOR initiative to promote trade and peace; Macri begins official visit to China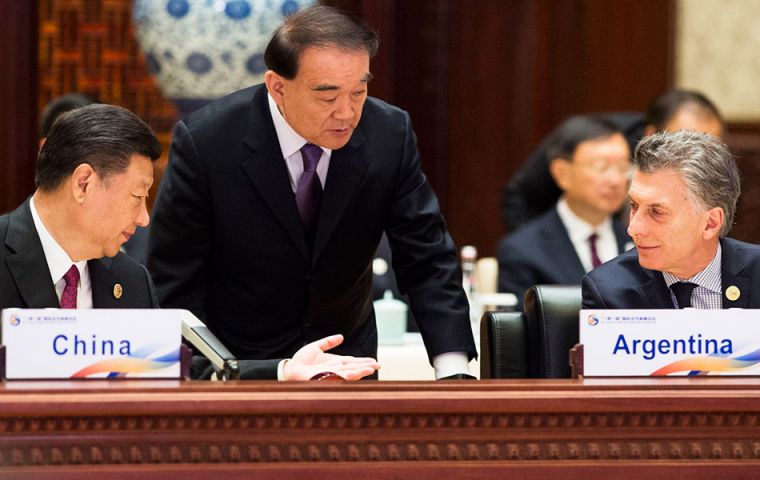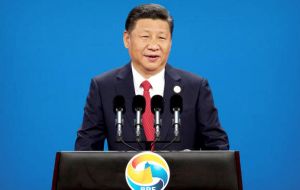 Argentina is a great producer of food commodities and is capable of feeding 400 million people, president Mauricio Macri said addressing in Beijing the One Belt One Road, OBOR, international cooperation summit, the Chinese initiative to promote peace and trade, which convened 29 world leaders from all continents.
"Our goal is to double food production in the next few years" insisted Macri who called on leaders to multiply commerce, exchanges and advance towards integration
"Let's bet to become richer and more inclusive in the challenge of diversity, setting the foundations for a greater understanding", added the Argentine president at the summit headed by Chinese leader Xi Jinping. "It's a great opportunity and Argentina and the region don't want to see it pass by".
"Any integration process, no matter its size or ambition will only be successful if we put at the heart people, and the goal of improving life quality, to advance in the reduction of poverty and improving the living conditions of our peoples".
In the framework of the summit, Macri met with Spanish president Mariano Rajoy, World Bank president Jim Yong Kim and Chilean president Michelle Bachelet.
The summit was opened by president Xi Jinping who called to reject protectionism, embrace open markets, as part of a major intense cooperation plan looking to the future, to ensure better living conditions, improved knowledge and a strong contribution to human civilization progress".
This proposal which has the support of over a hundred countries and world organizations is "original to China but belongs to the world", underlined Xi, who said the project is to re-launch the old historic silk route, by sea and land, to convert it in a great transnational web connecting Asia, Europe, Africa and Latin America.
Macri underlined the coincidences with Xi's speech creating an architecture of global economic cooperation, open, inclusive and balanced to the benefit of all, looking to solve the great global challenges.
The Argentine leader added that in Unasur, which Argentina presides for the next twelve months, there is a consensus to establish a South America Regional Infrastructure Integration, IIRSA, and coordinate with the OBOR initiative from China, to address the several multinational infrastructure projects such as the Parana-Paraguay waterway which connects the heart of the continent and six countries with the Atlantic ocean. Likewise the several bi ocean corridors linking the Atlantic with the Pacific.
Macri also revealed that his government is working closely with Beijing to have Argentina integrated to Asia's Infrastructure Bank and to increase cooperation in research and development in several science disciplines.
The OBOR summit ended Monday and on Tuesday Argentine president Marci and his delegation begin the state visit to China, which includes meeting president Xi Jinping, business leaders and representatives from Chinese companies.
The Macri delegation includes several ministers, provincial governors, advisors, lawmakers and the president of the Argentine Rural Society, Luis Etchevehere. Argentina is scheduled to confirm a raft of accords with China, mostly in infrastructure, worth billions of dollars and with strong financing from Beijing.
On Thursday, Macri will travel to Shanghai to visit the Sial food festival – Asia's biggest –, in which Argentina is the chief invitee.