Argentina applies to join the China led Asia Infrastructure Investment Bank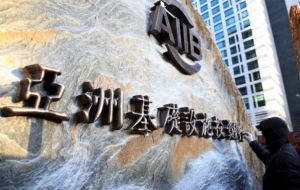 Foreign Minister Malcorra Susana said on Wednesday that Argentina has applied to join the China-led Asian Infrastructure Investment Bank (AIIB) and is willing to be actively involved in the Belt and Road Initiative.
The announcement was made during the biennial meeting of the China-Argentina Intergovernmental Standing Committee co-hosted by Malcorra and her Chinese counterpart Wang Yi in Beijing, China News Service reported.
With Argentina expected to join in the near future, this leaves only three countries in the G20 group which are not a part of the AIIB - Japan, Mexico and the United States.
The move comes days after Brazil drastically reduced its capital stock in the AIIB due to domestic financial pressure.
China and Argentina also announced that education, sports and tourism branches will be added to the Committee. It was also confirmed that the multi-entry visas between the two countries would be extended to a period of ten years.
The first meeting of China-Argentina Intergovernmental Standing Committee was held two years ago in Beijing, and the third one is set be held in Buenos Aires in 2019.