Temer rejects calls for stepping down: "I will not resign. I repeat, I will not resign"
Thursday, May 18th 2017 - 22:22 UTC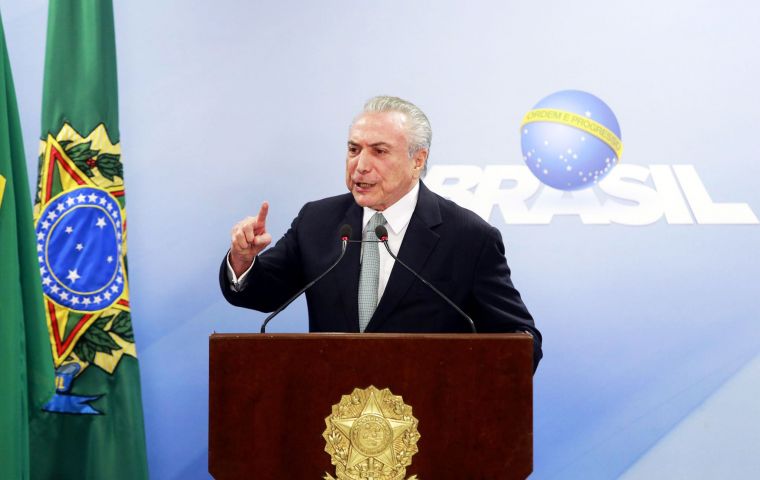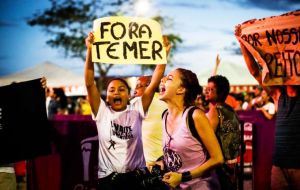 Brazilian President Michel Temer on Thursday rejected calls for his resignation, saying he will fight allegations that he endorsed the paying of hush money to an ex-lawmaker jailed for corruption. The embattled leader spoke in a national address after Globo newspaper reported Wednesday night that Temer was recorded supporting payments to former Lower House Speaker Eduardo Cunha.
The incendiary accusation was the latest development in a scandal that has had Latin America's largest nation on edge the last 24 hours with its stock market and currency plunging, and rumors circulating that Temer would step down.
"At no time did I authorize the paying of anyone," Temer said emphatically, raising his voice and pounding his index finger against the podium. "I did not buy anybody's silence."
"I will not resign," he emphasized.
Protests were planned in several cities and opposition politicians took to Twitter and local news channels to call for Temer to be impeached, arguing his government no longer had legitimacy.
"I can't see how Temer survives this," said David Fleischer, a political science professor at the University of Brasilia. "There are just too many people against him now."
The ongoing scandal deepened at dawn Thursday as police searched the Rio de Janeiro home and Brasilia office of Sen. Aecio Neves, who nearly won the presidency in 2014 and planned to run again next year.
Neves is being investigated in several corruption cases related to the "Car Wash" probe into kickbacks to politicians. He has denied wrongdoing. The Supreme Federal Tribunal suspended Neves from office indefinitely.
Both chambers of Congress cancelled sessions and Temer's office canceled his planned activities.
Late Wednesday, Globo reported that Neves had been recorded asking JBS meat-packing company executive Joesley Batista for US$700,000 to pay for his "Car Wash" defense.
Globo also reported that Batista had recorded Temer endorsing a bribe to silence Cunha. In a statement late Wednesday, the president's office said Temer did not participate or authorize any attempt to keep Cunha from reaching a plea bargain with Justice (officials)."
If confirmed, the allegations could prove devastating for Temer, whose administration has lurched from one crisis to another since he took office just over a year ago.
Cunha led the impeachment fight that removed Dilma Rousseff from the presidency last year and put Temer, then the vice president, into power. Cunha was later imprisoned on a 15-year sentence for corruption.
The statement from Temer's office confirmed that the president did meet with Batista in March. According to the Globo report, Batista secretly recorded the conversations with Temer and Neves and gave them to justice officials as part of plea bargain negotiations.
The report said that when Temer was told Cunha was being paid to keep silent, the president responded: "You have to keep that up, all right?"