YPF targets US$ 10 cost per barrel at Vaca Muerta shale deposits, by end of 2018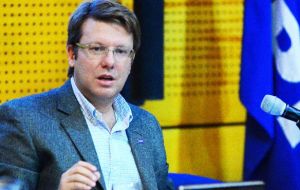 Argentina's oil corporation YPF plans to match United States costs in developing non conventional energy, by the end of 2018. This refers to the very rich shale deposits of Vaca Muerta, with a target of 10 dollars per barrel and for this purpose it has started a program of experimental drillings.
"YPF has drastically cut its development cost per oil well from US$ 32boe in 2015 to the current US$ 13boe, basically because we did the right planning, identified the best drilling soil and optimized our construction process", said Pablo Bizzotto, manager of YPF non conventional resources department, during an oil industry conference in Buenos Aires.
Bizzotto said that the cost was achieved in horizontal drilling of 1.500 meters wells, with 20 fracture chapters, with an overall cost of 7.5 million dollars, which works out at an equilibrium commercial point of US$ 43 per barrel.
"Now the new YPF goal is to reach, by the fourth quarter of 2018, an average cost of US$ 10 per barrel for which we will be drilling longer horizontal wells, some 2.500 meters, with all the experience achieved at the 1.500 meters", added Bizziotto who anticipated further plans for a 3.200 meters in the second half of this year.
As to degree of knowhow and materials, the Argentine engineer said that fracking since 2016 is done with local sand and technology in Neuquen drilling is last generation, "real time" with what is being developed in the US.
A similar progress has been achieved in the production of natural gas, with costs below US$ 2 per million BTU. "To improve the productivity/costs rate we must keep advancing in the logistics of water and sand when working at greater distances, lowering the unitary cost, and with tax breaks", pointed out Bizzotto.