Venezuela: over fifty people killed in fifty days of protests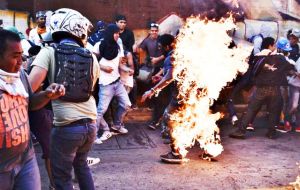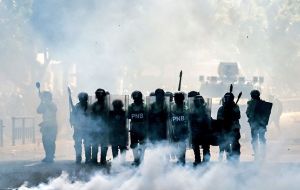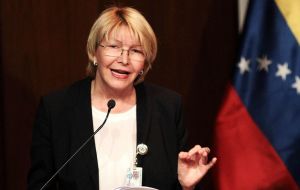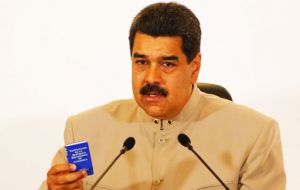 A young demonstrator has died from a gunshot wound to the chest, raising to over 50 the number of people killed in fifty days of protests targeting Venezuela's President Nicolas Maduro, officials said Sunday. The president personally denounced a brutal attack on another man he said had been taken for a government supporter during one of several massive demonstrations across the country Saturday demanding early elections.
The man, identified as Orlando Figuera, 21, was beaten, stabbed and burned — "like Islamic State terrorists do," Maduro said. Figuera was hospitalized with first- and second-degree burns over half of his body, and for six knife wounds. Protestors said the man was a thief and was caught by the furious mob,
The death occurred earlier in the western city of Valera. The attorney general's office said gunmen there opened fire Saturday on an anti-government demonstration.
"At that moment, (Edy Alejandro) Teran Aguilar received a bullet in the chest," the office said in a statement. Also wounded in the shootings were an 18-year-old male and a 50-year-old woman, it said. Teran was 23.
In some cities, the protests degenerated into clashes between demonstrators demanding elections to replace Maduro, and police and government troops.
"Growing insanity. A human being is set on fire at a 'peaceful demonstration' by the opposition in Caracas," Venezuelan Information Minister Ernesto Villegas said on Twitter, posting a video of the Figuera incident. The prosecutor's office said it had opened an investigation.
Maduro blamed "the leaders of groups of mercenaries" for the violence and said several of them were already in prison.
And he reiterated earlier complaints that U.S. President Donald Trump is behind the country's troubles. Trump, he said, had his hands "deeply penetrated in this conspiracy, which aims to take political control of Venezuela."
The mayor of a municipality in the eastern part of Caracas said 46 people were injured in Saturday's protests, while in the Caracas suburb of San Antonio Los Altos a youth was wounded by gunfire, the opposition governor of the state of Miranda said.
Since the protests began April 1, hundreds of people have been injured and some 2,200 have been detained, 161 of them jailed on orders of military courts, Foro Penal, a nongovernmental monitor, said.
Seven in 10 Venezuelans reject Maduro's leadership, according to private surveys, amid widespread economic devastation aggravated by the drop in the prices of oil — Venezuela's chief revenue source — in 2014.
Last week Venezuela's attorney general Luisa Ortega Diaz spoke against handing over legislative powers to a president-backed constituent assembly, which she said would not end the crisis.
President Nicolas Maduro said on May 1 he would create a new legislature to ease tensions after a month of anti-government protests. The new body will have the power to rewrite the constitution.
"A state transformation that can potentially lead to a new constitution is neither necessary nor relevant in the search of a solution to the indisputable and unprecedented crisis the country is going through," Ortega Diaz wrote in an open letter to Elias Jaua, in charge of the assembly process.
She refused to take part in preparations to set up the new legislature, citing the government's intention to hold indirect elections and warned that, rather than reconcile the nation, the assembly could potentially deepen the political crisis.
Venezuela's opposition has condemned the decision as an attempt to bypass the parliament where it has a majority. It has brought thousands of protesters to the streets since early April after the Supreme Court briefly took over from the National Assembly.